<< Go Back up to Historic Theatre Photography main page
| | | | |
| --- | --- | --- | --- |
| Follow Mike Hume's Historic Theatre Photography: | | | |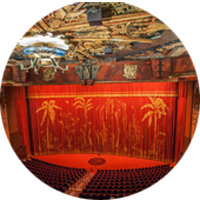 Featured Photos
Overview
The 1927 TCL Chinese Theatre in Hollywood was Sid Grauman's second Hollywood movie palace following the opening of his Egyptian Theatre in 1922, just down the street on Hollywood Boulevard. The Chinese Theatre has likely hosted the largest number of movie premieres of any venue in the world, having been a favorite since its hosting of Cecil B. DeMille's "The King Of Kings" in May 1927.
Grauman spared no expense in furnishing his new movie palace and, according to the theatre's website, special permission had to be granted to import Chinese artifacts including temple bells, pagodas, and the Heaven Dogs which still guard the entrance of the theatre to this day.
The theatre was originally furnished with a Wurlitzer organ. Instead of traditional organ chambers and grilles, the chamber was located in the ceiling with the sound emanating out of the many holes in the main ceiling fixture, the intention being that the sounds were coming down from the heavens. The organ was removed in 1957.
The theatre's forecourt is full of celebrity handprints, footprints and signatures, a tradition which carries on to this day and allegedly started when Norma Talmadge put her foot in wet cement when Sid Grauman was showing her the new theatre while still under construction. Sid, ever the salesman, realized he could turn the footprints into publicity and had Mary Pickford step into the wet cement!
In 2013 the theatre underwent a massive restoration including upgrading to IMAX. By burrowing through the auditorium floor into the basement and realigning the seats the theatre now boasts a 94ft x 46ft screen, one of the largest IMAX screens in the United States, and the only IMAX theatre in the world with a curtain. Current facilities include Laser IMAX and 70mm projection. The theatre is still a favorite for many movie premieres in Hollywood.
Movie, TV & Music Video Appearances
Movies
Television
Music Videos
Documentary
Award Shows
How do I visit the TCL Chinese Theatre?
The TCL Chinese offers two different tours:
A short tour of the theatre lobby and handprints in the forecourt.
A more in-depth tour of the theatre and public areas, including a short movie summarizing the theatre's history and also covering the above lobby and forecourt areas.
Tours run 7 days a week excluding days when special events are scheduled. For more information and to book tickets check out the theatre's VIP Tour website

, call them at (323) 463-9576 or email tours@chinesetheatres.com. Group rates are available.
Further Reading
Online
Books
"TCL Chinese Theatre: History of the Iconic Hollywood Landmark" (2017), by TCL Chinese Theatre, published by Chinese Theatres LLC. ISBN 040232653568.
Photos of the TCL Chinese Theatre
All images copyright © 2002-2018 Mike Hume/historictheatrephotos.com. For licensing and/or re-use contact me here.
| | | | |
| --- | --- | --- | --- |
| Follow Mike Hume's Historic Theatre Photography: | | | |