Events may be affected by Covid-19 protocols!
While Historic Theatre Photos endeavors to ensure event information displayed on our website is kept accurate and updated, however during this volatile time there may be changes to events at theatres which we are not aware of. In particular, proof of vaccination and/or negative Covid-19 test results may be a condition of entry. Some vents may also have been cancelled. You are therefore strongly encouraged to check the status of events directly with the venue and/or event provider. Historic Theatre Photos cannot be held responsible for incorrect event information posted on this website in good faith and later updated elsewhere without our knowledge.
Thank you for your understanding.
<< Go Back up to Special Events Index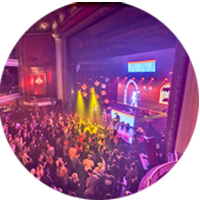 This events guide features all the information we have on events. The guide covers theatres featured on this website so you may wish to check local listings for any additional theatre tours available. Enjoy your event!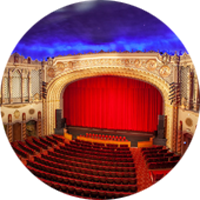 Orpheum Ghost Tour
23rd October 2021, 6pm onwards
This event has passed and is shown for archival purposes only.
Hosted and sponsored by The Friends of the Orpheum Theatre

, Phoenix Ghost Tours will provide hour-long tours of the Orpheum.
Exploring places normally off limits to the public, guests will get historically accurate details of the Orpheum and stories of those spirits continue to revisit the theater. Come join us on a truly unique tour that will take your breath away in more ways than one.
All proceeds go to The Friends of the Orpheum Theatre, a non-profit 501c(3) who serves to provide historical, educational, and fundraising support for the historic Orpheum Theatre.
*** Protective facial masks are required for this event. ***
Show times: 6pm / 6:30pm 7pm / 7:30m / 8pm on Friday 22nd, Saturday 23rd, Friday 29th, and Saturday 30th October (all tickets $25). Duration: 1 hour.
Click here to go to the event website.

Photographs copyright © 2002-2021 Mike Hume/historictheatrephotos.com unless otherwise noted.
Text copyright © 2017-2021 Mike Hume/historictheatrephotos.com.
For photograph licensing and/or re-use contact me here.
| | | | |
| --- | --- | --- | --- |
| Follow Mike Hume's Historic Theatre Photography: | | | |