Events may be affected by Covid-19 protocols!
While Historic Theatre Photos endeavors to ensure event information displayed on our website is kept accurate and updated, however during this volatile time there may be changes to events at theatres which we are not aware of. In particular, proof of vaccination and/or negative Covid-19 test results may be a condition of entry. Some vents may also have been cancelled. You are therefore strongly encouraged to check the status of events directly with the venue and/or event provider. Historic Theatre Photos cannot be held responsible for incorrect event information posted on this website in good faith and later updated elsewhere without our knowledge.
Thank you for your understanding.
<< Go Back up to Special Events Index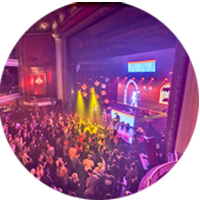 This events guide features all the information we have on events. The guide covers theatres featured on this website so you may wish to check local listings for any additional theatre tours available. Enjoy your event!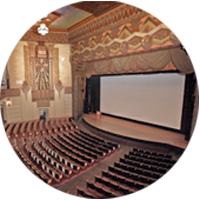 Warner Grand, San Pedro
Los Angeles: L.A. Metro Area
"City Lights"
5th November 2021, 5pm
Grand Vision Foundation and the San Pedro International Film Festival (SPIFF) together with the San Pedro Chamber of Commerce present Charlie Chaplin's 1931 tour-de-force silent film, CITY LIGHTS

.
Film Tickets includes Pre-Screening Mixer & Reception (5:00-6:30pm) with one complimentary drink ticket. Enjoy generous appetizers, sparkling wine or a vintage specialty cocktail plus a short musical set of lovely songs from the 1930s by LA's vintage songstress, Janet Klein.
This special screening announces SPIFF's Opening Night and 10th Anniversary, Grand Vision's 25th Anniversary and continues the celebration of the Warner Grand Theatre's 90th Birthday. The event is will bring together the San Pedro Chamber of Commerce's business and arts community, classic film and film festival fans and Warner Grand Theatre enthusiasts.
Warner Grand Safety: attendees are required to wear a facemask and to show proof of full vaccination or a negative test taken within the previous 72-hours.
Click here to go to the event website.

Photographs copyright © 2002-2021 Mike Hume/historictheatrephotos.com unless otherwise noted.
Text copyright © 2017-2021 Mike Hume/historictheatrephotos.com.
For photograph licensing and/or re-use contact me here.
| | | | |
| --- | --- | --- | --- |
| Follow Mike Hume's Historic Theatre Photography: | | | |