"The Bride of Frankenstein"
13th August 2022, 6pm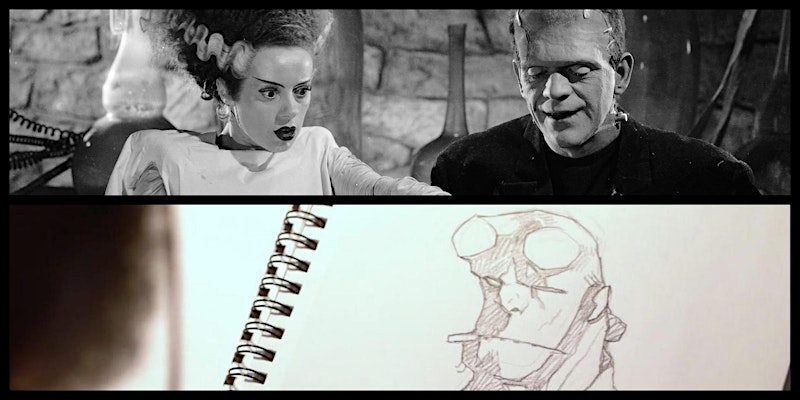 Part of our SUMMER SPEAKER series!
SPECIAL GUEST SPEAKER: Comic book artist and creator Mike Mignola as well as documentary filmmakers Jim Demonakos and Kevin Konrad Hanna (makers of the Mignola documentary MIKE MIGNOLA: DRAWING MONSTERS which we are also screening) join us for a Q&A about Mr. Mignola's process, his love of cinema, and thoughts on the intersection of comics, art, and cinema following the two movies!
PLUS Mr. Mignola and colorist Dave Stewart have created a limited edition poster JUST FOR THIS EVENT! We'll announce it and put it on sale asap. So stay tuned. We've already seen it and it's amazing.
Special thanks to all around amazing person and friend of Secret Movie Club, David Hyde of Superfan Promotions LLC for putting this event together.
6pm THE BRIDE OF FRANKENSTEIN (1935, dir by James Whale, starring Boris Karloff and Elsa Lancaster, Universal, 75mns, 35mm).
7:45pm MIKE MIGNOLA: DRAWING MONSTERS (2022, dir by Jim Demonakos and Kevin Konrad Hanna, 97mns, digital presentation).
9:30pm Q&A with Mike Mignola, Jim Demonakos, and Kevin Konrad Hanna.
As of April 1, 2022, masks are now optional for indoor theater events if you're fully vaccinated. Anyone without proof of vaccination will be required to wear a mask for their own safety. We will continue to update our protocols with the dynamic situation. We are working to make sure we make the theater going experience the most enjoyable and safest possible.
Tickets $14 - $24. Pre-order an all day $6 Grand Central Parking Lot Pass (while supplied last) online.
Click here to go to the event website.