Detailed Information
The museum was built by the Academy of Motion Picture Arts and Sciences (AMPAS)

, which also organizes the Academy Awards (The Oscars). During construction, AMPAS described the museum as being "the world's premier institution devoted to exploring the art and science of movies and moviemaking".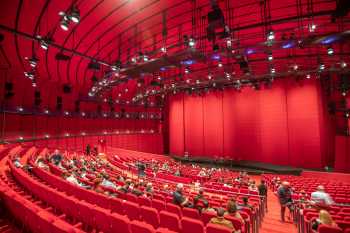 The 966-seat Geffen Theater
The museum was originally intended to be open in 2017, however was revised to 2019 and then 2020. As a result of the Covid-19 pandemic the opening was pushed back to September 2021. The project was originally slated to cost roughly $388 million, however jumped to $482 million by the time of completion.
The museum is located in the 1939 May Company department store building, immediately adjacent to the Los Angeles County Museum of Art (LACMA)

campus.
The design of the museum was overseen by Italian architect Renzo Piano. The exterior of the building (dedicated as the Saban Building following a $50 million donation from Cheryl and Haim Saban), was refurbished with new limestone, as well as new gold leaf tiles for its corner "cylinder".
A spherical structure was built as an extension of the main Saban Building, connected via skyway bridges, which houses the 966-seat Geffen Theater and the glass-domed Dolby Family Terrace above.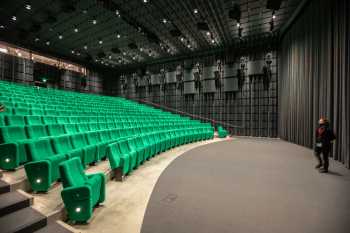 The 288-seat Ted Mann Theater
The Geffen Theater's first public screening was "Malcolm X" (1992)

in 70mm, held on 26th September 2021 and featuring a live Q+A hosted by Jacqueline Stewart, the Museum's Chief Artistic and Programming Officer, with director Spike Lee and actors Angela Bassett and Denzel Washington.
The 288-seat Ted Mann Theater is located in the basement of the Saban Building.
The Academy holds more than 13 million objects including costumes, film reels, posters, props, and screenplays dating back to 1927. Some key objects in the Museum's collection include:
The second and third floors of the museum feature exhibitions, some of which are permanent and some gradually rotate.
The Academy Museum is open 10am to 6pm daily (8pm Fridays and Saturdays). See the museum's Plan Your Visit page

for specifics and to check for special hours).
Entrance to the museum does not include entrance to the Geffen or Ted Mann theatres. The museum holds regular screenings in both theatres, you can check the schedule and book online here

.