Detailed Information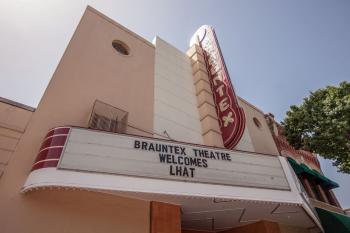 Marquee and Vertical Sign
The theatre was built by the Griffith Company, a regional chain based in Oklahoma City, who managed 165 theatres in 1942. The architects were Dallas-based Jack Corgan and business partner William J. (Bill) Moore, and the design was inspired by another Griffith theatre: the Washita Theater in Chickasaw, Oklahoma. Corgan designed many movie theatres and drive-ins in the Southwest, and would go on to design Dallas' Love Field Terminal.
Opening night was a screening of Birth Of The Blues starring Bing Crosby and Mary Martin, for 30 cents admission. The projectionist was Walter Braune, after whom the Brauntex is named.
Although initially closed during the start of the war, the Brauntex reopened as a means of keeping local citizens abreast of America's war efforts via weekly newsreels. Seating capacity was reported as 600 in the 1945 Film Daily Year Book of Motion Pictures.
In 1972 the Brauntex was expanded by "twinning", which saw the balcony enclosed to create a second screen called the Brauntex "Mini". The theatre operated as a dual screen cinema until May 1998.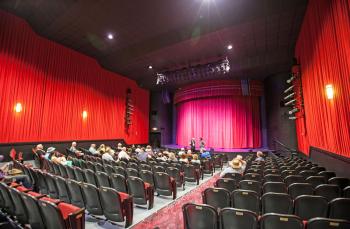 Brauntex Auditorium
In its 56-year history, the Brauntex went from smartly dressed ushers and a meticulously maintained theatre to smoke-filled air, dirty broken seats, and a drastically diminished audience. The building, destined for demolition, was rescued in 1999 by a group of concerned citizens who recognized not only the historic value of the Brauntex, but also the potential for the Brauntex to fill the need for a performing arts venue in the growing community of New Braunfels. Several community leaders, including representatives of various arts groups, formed the Brauntex Performing Arts Theatre Association (BPATA). The Association purchased the theatre on 10th December 1999 and was granted nonprofit status shortly thereafter.
With a great deal of local assistance, the BPATA proceeded with cleanup and renovation of the Brauntex Performing Arts Theatre, reopening in August 2000. Leading up to that point, and since, many improvement works have taken place: the stage was enlarged; the closed-off balcony was re-opened to the main auditorium; a permanent ADA-compatible dressing room block replaced the previous temporary dressing room trailers behind the stage; larger lobby bathrooms were created. In 2008 the Texas Historical Commission awarded the Brauntex a place on the National Register of Historic Places.
The Brauntex presents numerous shows throughout the year featuring major touring artists, is a home for presentations by other nonprofit performing arts organizations, and provides educational arts outreach programs to area youth.
As of mid-2018 the Brauntex does not offer regularly-scheduled tours. Check out the many and varied events running at the Brauntex on the theatre's website

which includes a calendar of events and online booking.