<< Go Back up to Historic Theatre Photography main page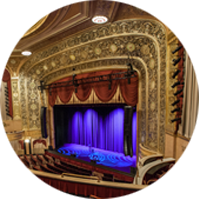 This theatre tour guide features all the information we have on theatre tours in U.S. South. The guide covers theatres featured on this website so you may wish to check local listings for any additional theatre tours available in U.S. South. Enjoy your tour!
As of mid-2018 the Scottish Rite Theater does not offer regularly-scheduled tours, however they welcome visitors to come and view the historic theatre and century-old painted backdrops by making arrangements by email with rental@scottishritetheater.org

.
You can also check out the events running at the Scottish Rite Theater on the their website

which includes a calendar of events and online booking.
** Due to the Covid-19 pandemic theatre tours are on hiatus until further notice **
As of mid-2019 tours generally run once per month, on a Monday at 5pm and 6pm. Check out the Majestic Theatre website

for more information and booking. As tours are subject to production constraints the date is different each month. Tickets are $25 and the tour lasts 60 minutes. The tour will involve the use of stairs; for accommodation requests call (210) 226-5700.
Photographs copyright © 2002-2022 Mike Hume / Historic Theatre Photos unless otherwise noted.
Text copyright © 2017-2022 Mike Hume / Historic Theatre Photos.
For photograph licensing and/or re-use contact me here

.
| | | | |
| --- | --- | --- | --- |
| Follow Mike Hume's Historic Theatre Photography: | | | |