<< Go Back up to Historic Theatre Photography main page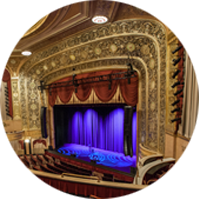 This theatre tour guide features all the information we have on theatre tours in the United Kingdom. The guide covers theatres featured on this website so you may wish to check local listings for any additional theatre tours available in the United Kingdom. Enjoy your tour!
As of January 2023, tours take place according to theatre availability and visiting productions. Tours last approximately 1 hour 30 minutes to 2 hours. Tours do not include show ticket and are subject to availability. Routes may change and involve a number of stairs. Backstage access is subject to availability and cannot be guaranteed. If you have any access needs, please do get in touch before your visit via email.
Private tours can also be arranged upon request. Please contact BristolCreativeLearning@theambassadors.com.
For more details see the Bristol Hippodrome's Theatre Tour website

. Advance reservations not required although recommended to ensure your chosen tour is not full.
The Britannia Panopticon is open for free general viewing Tuesday to Saturday, 12pm to 5pm. For additional details of events, or questions about visiting, see the Britannia Panopticon's What's On page

. Please note that the Britannia Panopticon does not have disabled access (information correct as of July 2021).
Theatre tours are scheduled according to theatre availability. The current schedule is available on the theatre's website

. Tours cost £10 per person (£8 for Friends) and run for 60-90 minutes. Note: Backstage access is dependent on the visiting company's theatre operations on the day of your tour and is not guaranteed.
Tours run every Saturday at 10am, Easter through October. Tour duration 2hrs 15mins. Adults £8.50, Children (16 and under) £4.50, Family £19 (2 adults & 2 children). Private tours can be made by arrangement and further tours may be available during July and August. Note that due to the original features of the theatre, many parts of the tour are inaccessible for people with mobility related disabilities. Information correct as of January 2020. Check the Villa Gaiety website

or telephone 01624 600555

for the most up-to-date information.
Regular tours of the 116-year-old Edwardian theatre, designed by the legendary theatre architect Frank Matcham, are 90 minutes long and are led by our enthusiastic volunteers. The tour explores the new and old sections of the city centre landmark, providing an opportunity to get onstage and see His Majesty's from the eyes of a performer in one of the most beautiful theatres in Scotland. For current tour schedule click here

.
Duration: 90 minutes. Tickets: £12.50. For access enquiries email hello@aberdeenperformingarts.com

.
Theatre tours are offered as schedules permit. Check the Sheffield Theatres website

for latest tour information. Tours give you access to many areas of the Crucible, Lyceum, and Playhouse theatres, including the backstage and cast areas, but are of course subject to daily operations. Each tour is unique and varies depending upon what is available on the day. Plans may be altered at short notice so we cannot guarantee in advance which areas you will visit.
The Richmond Theatre offers regular tours although the schedule is dictated by visiting productions. Tours last 1-1.5hrs and cost £15. A full tour schedule and online booking is available on the tour page of the theatre's website

. For more information or to book a private tour for a small group, contact richmondboxoffice@theambassadors.com

.
The Lyceum runs tours (60 mins) backstage at the theatre, and at their theatre workshop and stores (offsite) for groups between 10 and 20 in size. Further details are available on The Lyceum's website

.
The theatre sometimes participates in the annual Edinburgh Doors Open Day

.
The theatre runs regular tours, generally Thursday and Saturday mornings, which last one hour and during current Covid restriction costs £50 for a group of up to 6. Spaces regularly included on the tour: the new Bristol Old Vic foyer; the Georgian Auditorium, Stage, Gallery, and Pit passages; the Paintshop and Paint Frame; the Weston Studio; and Coopers' Hall. Access is subject to theatre operations at the time of your tour and some areas may be restricted. Check the theatre's website

for further details and online booking.
The theatre has previously participated in the annual Bristol Open Doors

event and may do so again in the future.
Guided Tours are given in English and last approximately 1 hour. There are 20 spaces available per tour. Tours meet in the main foyer/lobby. Theatre Royal Drury Lane is a working theatre, so no two tours are the same. Sometimes the route will need to change due to other events taking place in the building. This is a walking tour with numerous steps and backstage areas so comfortable shoes are recommended.
Tour schedule: Wed & Fri: 10:30am, 12pm, 2:30pm. Thu & Sat: 10:30am, 12pm. Sun: 10:30am. Tickets £18.50 (no booking fee).
Booking line 020 7087 7748

, or online at the theatre's tour website

, which also includes additional information about the tour.
The one hour tour of the building explores all areas, including the understage, backstage, and many other secret areas never seen on a normal visit. Your tour guide will reveal the theatre's fascinating history, and highlight tales of its stars, its shows and even its ghosts. Tours cost £6. Maximum of 25 people per tour. Visitors with restricted mobility will have limited access as the tour includes lots of steps. Comfortable shoes are recommended.
Bookings can be made online here

, via the Eventim booking hotline on 0844 249 1000

, or in person at the theatre Box Office.
Photographs copyright © 2002-2023 Mike Hume / Historic Theatre Photos unless otherwise noted.
Text copyright © 2017-2023 Mike Hume / Historic Theatre Photos.
For photograph licensing and/or re-use contact me here

.
| | | |
| --- | --- | --- |
| Follow Mike Hume's Historic Theatre Photography: | | |