Detailed Information
History of the first two theatres to have been built on the site:
First Building: The Richmond Theatre (1718-1739)

The first theatre was built by an actor-manager named Mr Penkethman and opened in June 1718. In July of that year the St Jame's Evening Post recorded that their Royal Highnesses the Prince and Princess attended the theatre to see the Play of the Busie-Body.
The theatre was rebuilt in 1733 however it fell into decay six years later and was then used as a barn before being demolished.


Second Building: The New Theatre on Richmond Green (1765-1884)

Second Theatre in 1765

Opened as The New Theatre on Richmond Green in 1765, the new theatre was built by a Mr Sanderson of Drury Lane and architected by an actor called Mr Love (real name James Dance), who also managed the theatre.
The St James Chronicle of 15th June 1765 reported that the scenery in the new theatre had been painted by Mr French of the Theatre Royal in Drury Lane, describing it as "extremely elegant".
In 1766/7 the theatre's auditorium was redecorated and the stage enlarged. The theatre enjoyed much success, including several royal visits, and in 1837 the theatre was upgraded to be lit with gas. However after 119 years the theatre was demolished at the end of 1884.

Current Building (1899)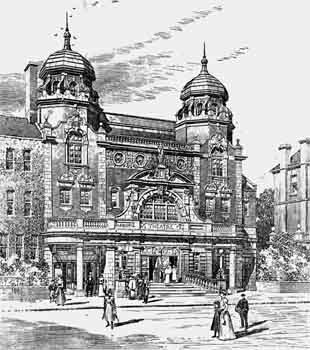 Richmond Theatre in 1899
The new theatre debuted its first performance on Monday 18th September 1899, however it was formally opened four days prior at a private viewing on Thursday 14th September, presided over by the Mayor of Richmond.
The theatre was noted as being entirely lit with electric light, although a reserve of gas was available should the new electricity fail. It seated 1,370 and was capable of taking "any scenery" given the height from stage floor to grid being 50ft (15.2m). The proscenium opening was 27ft 10.5in wide by 20ft 4in high (8.5m by 6.2m).
The theatre's façade facing onto Richmond Green was one of brick and terracotta. A sole figure stands above the entrance and represents Music. Just below it is the mask of Comedy, directly above a semi-circular window. The façade features two turrets which house ventilation grilles.
In the auditorium the main feature is the ceiling. Four large subject-panels represent scenes in plaster relief from Hamlet, A Midsummer Night's Dream, King Lear, and Romeo and Juliet. The proscenium is flanked by large ornamental columns on either side, topped by the masks of Comedy and Tragedy. Above the proscenium is a large key panel bearing an inscription by Alexander Pope: "To wake the soul by tender stroke of art".
The Richmond Theatre offers regular tours although the twice-monthly schedule is dictated by visiting productions. Tours last 1hr 30mins and cost £12.50. A full tour schedule and online booking is available on the theatre's website

. For more information contact richmondcl@theambassadors.com

.
Flying System
System Type
Single Purchase Counterweight operated from Stage Right Fly Floor
Fly Floor (Stage Left)
13ft (4m) wide, underside 18ft 10in (5.7m) DS / 18ft 2in (5.5m) US above Stage floor
Fly Floor (Stage Right)
2ft 8in (0.8m) wide, underside 19ft 6in (5.9m) DS / 18ft 6in (5.6m) US above Stage floor
Maximum Out Trim
42ft 8in (13m)
General Information
Seating Capacity
864 (Stalls 434; Dress Circle 212; Upper Circle 218)
Lighting
Followspots
No permanent followspot booth; 2 positions are available, 1 each side, at rear of Upper Circle
Lighting Control
Rear of Stalls at House Left
Orchestra Pit
Capacity
10 maximum (larger orchestras may be accommodated at floor level by removing seats)
Dimensions
32ft 8in (10m) wide, 6ft 6in (2m) deep, 2ft 6in (0.8m) below Stalls floor level (modular Pit infill available)
Stage Dimensions
Forestage Depth
3ft 6in (1.1m)
Proscenium Height
20ft 4in (6.2m)
Proscenium Width
27ft 10.5in (8.5m)
Stage Depth
28ft 11in (8.8m)
Stage Left Wing
18ft (5.5m)
Stage Rake
1:24 (Forestage 1:18)
Stage Right Wing
8ft 2in (2.5m)