Detailed Information
The Bristol Hippodrome was Frank Matcham's last major work. Matcham designed the Hippodrome for theatre manager Sir Oswald Stoll of Moss Empires, for whom he had previously designed the London Coliseum (opened 1904). The Hippodrome was designed on such a scale it was second only to the Coliseum across the entire Moss Empires theatre circuit.
Stained Glass Lighthouse
Respecting Bristol's long-standing maritime connections, the theatre features a maritime theme throughout its Baroque decoration. The Grand Staircase, leading from the entrance lobby to the rear of the Stalls, originally featured backlit stained glass naval battle scenes. A few panels still remain. There are a number of porthole-shaped windows, stained glass lighthouse motifs, and plaster decoration throughout the auditorium styled after knotted ropes.
The auditorium is wide and not overly deep, comparisons having been drawn with the London Palladium. The Stalls / main floor seating is aggressively raked which affords good sightlines from any row, with the minor inconvenience of shallow steps in the aisle. At Grand Circle level there are two rows of three boxes at each side, surrounded by grand Doric columns which rise up between the boxes to support the Upper Circle slips. The Upper Circle remains bench seating although it is now upholstered rather than being plain wood. The proscenium arch is 48ft wide with an elliptical arched top, set within a deep reveal sporting niches either side at stage level, and originally with intricate portraiture in the panels above.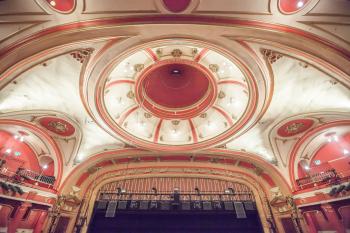 The Retractable Ceiling Dome
The auditorium's circular dome can be opened using a sliding mechanism, located on the roof, to provide ventilation. The original painted decoration on the dome's interior flat ceiling, dome surround, supporting pendentives (featuring nymphs frolicking in the ocean), and at the sides of the proscenium, has all been lost.
The original stage machinery included a 100,000 gallon tank which could be filled with heated water. The rear section of the stage, 40ft by 32ft (12.2m by 9.8m), would lift up so that the front section of the stage, including footlights, could slide backwards underneath it, revealing the massive water tank. The tank was 42ft wide and 27.5ft front-to-back (12.8m by 8.4m), with a maximum depth of 7.5ft (2.3m). Ramps ran from the bottom of the tank up to stage level on either side.
The tank contained four platforms ("tables"), each running the width of the tank, which could be independently raised or lowered to simulate varying depths of water or to create water effects through movement. The position (depth) of each table was relayed to the main switchboard, by wires, so that the operator knew each table's position within the tank. The orchestra and audience were protected from water splashes by a 50ft long, 6ft high (15.2m by 1.8m) glass screen, which could be raised at the pull of a lever.
A novel feature was a lighting gallery for arc lamps "immediately behind the top of the proscenium, which permitted a fine concentration of light particularly useful for illuminating the water". From a very grainy photo it looks like this position was immediately in advance of the proscenium, directly above the orchestra pit. No further details have come to light on this lighting gallery as yet.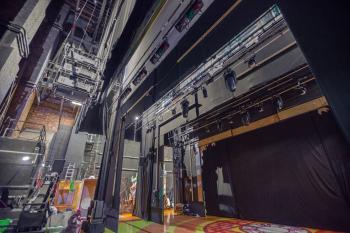 The Hippodrome's vast stage
The stage was originally a hemp house, however after a fire that consumed the entire stagehouse in 1948, it was rebuilt with a stronger grid and full counterweight flying system. Being roughly a 60ft+ (18.3m+) cube, it remains one of the largest stagehouses in the UK outside of London.
The stage was originally raked however the rake was removed in 1988. This leads to some confusion as to why radiators are mounted several feet higher than expected on the stage's rear wall, and explains why there are ramps down to stage level from the dock doors and loading area upstage right.
The theatre is able to accommodate the largest touring shows and, amongst many premieres, was home to the out-of-town tryout of Cameron Mackintosh's Mary Poppins in 2004, prior to its record-breaking West End and Broadway runs and subsequent national tours.
An often-overlooked feature Front of House is that the Hippodrome utilized a central vacuum system whereby hoses were plugged-in to a local outlet and carried dust/debris away to the central vacuum using a network of piping. It is very rare to see this type of system used in the UK.
The theatre currently seats 1,951, is operated by Ambassador Theatre Group

, and stages shows direct from London's West End as well as regional tours and local theatre. The theatre's retractable dome is still operable and was last known to have been opened in August 2017. Click here

to watch a video of the retractable dome operating in 2013.
As of January 2023, tours take place according to theatre availability and visiting productions. Tours last approximately 1 hour 30 minutes to 2 hours. Tours do not include show ticket and are subject to availability. Routes may change and involve a number of stairs. Backstage access is subject to availability and cannot be guaranteed. If you have any access needs, please do get in touch before your visit via email.
Flying System
Counterweight System
65 Bars/Linesets (4-line) all Single Purchase at 200mm spacings aside from larger gaps to accommodate Grid Truss/Tie-bars. Permanently-rigged Hemp Set between Bars 15 and 16 slung under Grid lattice truss.
Safe Working Loads
1,100lbs or 650lbs roughly evenly distributed across system - refer to detailed plan for each bar's SWL.
Standard Rigging
Bar 1: House Header; Bar 2: House Curtain; Bar 3: Hard Proscenium Header (Teaser). Hard Adjustable Tormentor Legs dead-hung between Bars 3 and 4.
General Information
Balcony Overhang
Front of Grand Circle overhangs Row P of Stalls
Seating Capacity
1,951 (Stalls: 887, Grand Circle: 507, Upper Circle: 503, Boxes and Slips: up to 96, although many of these seats are not regularly used and hence not included in the overall seating capacity)
Theatre Masking
5 sets Black Legs/Borders and 1 full Black
Lighting
Followspots
2 x Lycian 1290 XLT (2kW Xenon); Box will accommodate up to 4 spots
Followspots to Setting Line
103ft
Houselights
Not DMX; controlled from DSR or LX Control Room (rear Grand Circle)
Orchestra Pit
Width in front of Stage
40ft 5in
Width under Stage
35ft 3in
Stage Dimensions
Minimum Stage Width
74ft 4in
Proscenium Arch maximum height
30ft
Proscenium Arch width
47ft 9in
Setting line location
Rear of Fire/Safety Curtain (Iron)
Setting line to front of stage
3ft 6in
Setting line to last counterweight lineset
48ft 7in
Setting line to stage rear wall
55ft 4in
Stage Floor to Fly Floors
28ft
Stage Floor to Grid
58ft 7in
Usual Tormentor Width
40ft (adjustable)
Width between Fly Floors
58ft 3in