Overview
The Avenue Theatre opened in early September 1932 with the movie The Honourable Mr. Wong

(original title "The Hatchet Man") starring Edward G. Robinson and Loretta Young and the British film Lord Babs

starring Bobby Howes.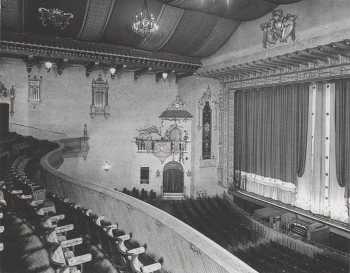 Auditorium in 1932
The architect was Cecil Massey, with interior design by Theodore Komisarjevsky. The auditorium was designed in semi-Atmospheric style with a Spanish courtyard theme, featuring villas and corbelled projections like turrets on the side walls alongside Moorish arches, representing a Spanish courtyard prepared for a fiesta. Soft backlighting was hidden behind the villas, lighting the side walls.
The ceiling treatment was different to most Atmospheric theatres in that instead of having a plain blue ceiling with twinkling stars and cloud effects, the Avenue Theatre's ceiling featured a draped valarium in richly embroidered striped tapestry, gathered along the center and hung in loops towards the side walls. The whole affair was styled after a tented ceiling to shade from the sun. Lighting came from elaborate lanterns which hung from the ceiling which gave a warm amber glow.
The Avenue Theatre was taken over by the Odeon Theatres circuit in 1936 and the name was changed to the Odeon Theatre Northfields.
In later years the adjoining café/restaurant was closed down and after some flood damage in 1970, the organ was removed from the building in 1972. The decorated tented ceiling material was replaced due to years of dust, grime and tobacco smoke damage and the replacement material was a pleated plain red cloth.
In the late-1970s there were proposals to convert the space for bingo, but this never happened, and the next proposal was to convert in into a triple screen cinema, which again did not come to fruition.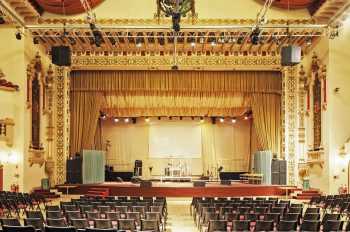 Auditorium in 2018
The Odeon became the Coronet Cinema from 19th November 1981 when Rank Theatres leased it to Shermans Coronet Circuit (Panton Films). This only lasted a few years and it closed on 17th January 1985 with Arnold Schwarzenegger starring in the aptly named The Terminator

.
A subsequent application for conversion to a bingo hall was refused and the Ealing Cinema Trust was formed to save the building and reinstate cinema use. However the building was sold and plans were put forward to convert it into a nightclub and build a supermarket on the car park. Nightclub use was approved, and all seats and stage fittings were removed, the orchestra floor was terraced, and the circle re-stepped to become the bar area which had tables and chairs. The space opened as the Top Hat Club in May 1988, lasting until 1994.
Later in 1984 the cinema was taken over by the Elim Pentecostal Church

who are still resident today, and over the years have slowly been renovating the building back to its former splendor.
Photographs copyright © 2002-2023 Mike Hume / Historic Theatre Photos unless otherwise noted.
Text copyright © 2017-2023 Mike Hume / Historic Theatre Photos.