Overview
The Capitol Theater was built in 1928 by Anthony Domino and Theodore Ingrassia for $175,000. The theatre opened in early February 1928 with The Sky Raider (1925)

starring Charles Nungesser.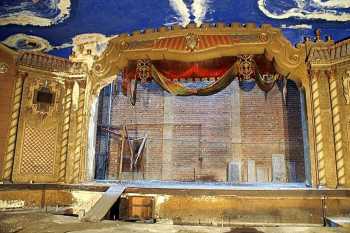 Auditorium circa 2012
The auditorium was completed in an Atmospheric style with a Spanish garden theme. The theatre featured a 3-manual, 9-rank Kilgen organ (opus 4008).
The exterior features four terracotta medallions on its façade. These are, from left to right, pianist/composer Anton Rubinstein, William Shakespeare, opera stars Enrico Caruso, and Giuseppe Verdi.
The Capitol Theater closed in the 1970s, and after being used as a billiard hall and a Mexican restaurant, it has sat dormant ever since. It has decayed substantially over the last ten years.
The theatre's original cloud machine is now housed at the Coronado Performing Arts Center.
Photo credits are noted where data was available at the time of inclusion. Photos displayed here may be subject to copyright; refer to our Copyright Fair Use Statement regarding our use of copyrighted media and contact us

with any concerns.
Photographs copyright © 2002-2022 Mike Hume / Historic Theatre Photos unless otherwise noted.
Text copyright © 2017-2022 Mike Hume / Historic Theatre Photos.