Overview
The UCLAN Theatre opened in late 1940 as a single screen neighborhood movie theatre. It was a project of Frances Seymour Fonda, the second wife of Henry and mother of Peter and Jane Fonda. The theatre was popular during the 1940s due to it featuring newsreels in addition to the main program.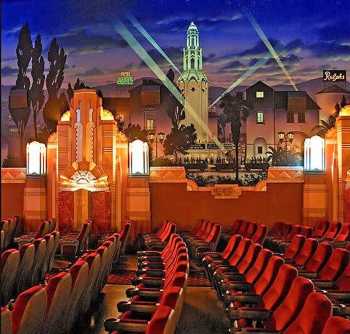 The "Hollywood Revival" atmospheric auditorium sidewalls
The theatre had many names and operators over the years. In 1985 the theatre came under the control of Pacific Theatres and was renamed Pacific's Crest. In 1888 Pacific Theatres, in conjunction with Disney, renovated the theatre in a project led by theatre designer Joe Musil. The façade received a deco treatment and the auditorium was re-styled in "Hollywood Revival" atmospheric style.
The atmospheric auditorium featured a deco-style proscenium arch. The auditorium sidewalls featured murals of Hollywood and Los Angeles buildings, icons, and streetscapes, with highlights picked-out in fluorescent paints excited by hidden black (ultraviolet) lighting. The auditorium ceiling was painted blue to look like the sky and featured twinkling stars. Musil also designed a shooting star light effect whereby a shooting star would fly across the ceiling of the theatre and explode in a shimmer of stardust as the title curtain opened.
The renovation of the Crest was a precursor to Pacific and Disney collaborating to renovate the El Capitan Theatre in Hollywood, again with Musil running the project.
The Crest was operated as an independent house from 2003 to 2010, then sold to Bigfoot Entertainment in late 2010 who put it back on the market just over a year later in late 2011. Some shows were presented in the theatre under lease from Bigfoot from 2013 to 2016.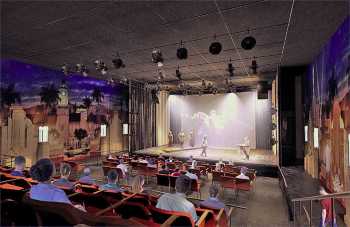 Renovation rendering for CAP UCLA
In October 2018 it was announced that the University of California, Los Angeles (UCLA) had acquired the theatre. A project to renovate the entire building and bring it up to current standards is expected to cost around $11 million and be completed in late 2022.
The theatre will be used as an off-campus venue for UCLA's Center for the Art of Performance (CAP UCLA). The theatre will be renamed as the UCLA Nimoy Theater in honor of the late Leonard Nimoy, whose widow Susan Bay Nimoy initially funded the project.
Photographs copyright © 2002-2023 Mike Hume / Historic Theatre Photos unless otherwise noted.
Text copyright © 2017-2023 Mike Hume / Historic Theatre Photos.