Overview
Opened in late July 1928, the 1,400-seat theatre – nicknamed "The Dupe" – was built by the Midwest Paramount Theatre Corporation at a reported cost of $300,000. The theatre was designed by architect Rudolph G. Wolff who had previously worked for the Chicago architecture firm of Rapp and Rapp and was a consultant for the Chicago Theatre.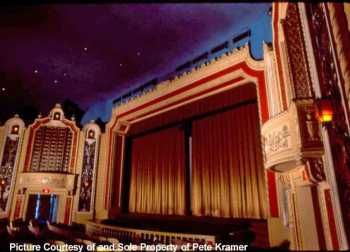 "The Dupe" in its later years
The Atmospheric styled auditorium featured a Spanish garden theme with twinkling stars and clouds soaring above a patio. In theatres like the DuPage, the building and its special lighting effects were as much a part of the show as the entertainment presented onscreen and onstage.
The DuPage Theater played host to many great films, as well as featured live entertainers such as Gene Autry, Pat Buttram, and George Gobel. It was also a favorite location for live radio broadcasts of such popular shows as the National Barn Dance.
The DuPage Theatre Building was added to the National Register of Historic Places in 1987.
In 1990, Paul Anderson, and Fatal Beauty Studios (a local recording studio), attempted to open the theatre as a concert venue but permission was not granted.
The theatre sat vacant until the year 2000 when Big Idea Productions, Inc. purchased it. The company planned to renovate the theatre and use other spaces within the building for corporate headquarters, however pulled out after determining that the site would not be large enough for their plans. The theatre was returned to civic ownership. Several committees were appointed to oversee the feasibility of rehabilitating the theatre however their efforts were ultimately fruitless, and in May 2007 the DuPage Theatre Building was demolished.
The site lay vacant for many years, and on 2nd January 2020 was removed from the National Register of Historic Places. Ground was broken

in 2021 for a luxury apartment building to be built on the site.
Information in part sourced from Cinema Treasures

.
Photographs copyright © 2002-2023 Mike Hume / Historic Theatre Photos unless otherwise noted.
Text copyright © 2017-2023 Mike Hume / Historic Theatre Photos.