Overview
The Majestic Theatre originally opened as the Nampa Opera House when E.L. Elvers built it for $20,000 in 1910. In newspaper reports from 1912 it is referred to as the Nampa Theatre.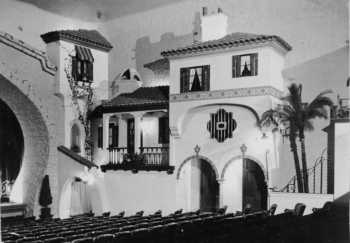 Auditorium in the 1930s
In 1917 it was renovated and renamed the Majestic Theatre. From the Idaho Free Press in 1926: "Stuffy, hot, impure air will be eliminated in the Majestic Theatre in Nampa. Artie Nu-Air will be installed and ready for use. It is operated by a five horsepower motor, which delivers 35,000 cubic feet of fresh air per minute. The theatre will be furnished with an entirely new supply of cool, fresh, sweet, invigorating ozone every 2½ minutes".
A remodeling took place in 1934 seeing the theatre closing in May and reopening in August, giving the exterior its distinct look and the interior an Atmospheric style with a Mediterranean villa theme.
In July of 1946 the Majestic Theatre and the local Adelaide Theatre were listed under the Fox Intermountain Theatres banner in the Idaho Daily Statesman.
In the early morning hours of 26th August 1958 the theatre burned to the ground. There was nothing left to rebuild.
Photographs copyright © 2002-2023 Mike Hume / Historic Theatre Photos unless otherwise noted.
Text copyright © 2017-2023 Mike Hume / Historic Theatre Photos.