Overview
Originally the Oriental Theatre was going to built in Waltham however ended up in Boston's Mattapan neighborhood.
The Oriental was a showplace of its time with twinkling stars and moving clouds. It opened in October 1930 and was designed by the Boston based architectural firm Krokyn, Browne & Rosenstein.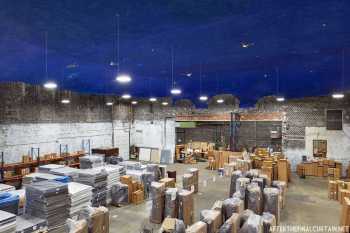 The auditorium, now used as storage space
The Chinese themed interior recreated such notable Chinese structures as the Street Gate of Tsinanfu and the façade of the Wan Shou Tsu Temple. Seating was on a stadium plan, with a raised section at the rear instead of an overhanging balcony.
The Oriental Theatre was the subject of a foreclosure sale in late September 1971, and the last movie ad found thus far was dated 1st October 1971 for McCabe & Mrs. Miller

. Other sources say the Oriental closed after a run of the James Bond movie Diamonds Are Forever

(general release 22nd December 1971), however no local newspapers of the time can be found advertising it as playing at the theatre.
A furniture outlet store currently occupies the original lobby space facing onto the street, and uses the auditorium as storage. Virtually none of the original auditorium decoration survives.
Information in part sourced from Cinema Treasures

.
Photo credits are noted where data was available at the time of inclusion. Photos displayed here may be subject to copyright; refer to our Copyright Fair Use Statement regarding our use of copyrighted media and contact us

with any concerns.
Photographs copyright © 2002-2023 Mike Hume / Historic Theatre Photos unless otherwise noted.
Text copyright © 2017-2023 Mike Hume / Historic Theatre Photos.