Overview
The Palace Theatre was built by local businessman Harry H. Ink, who had made his fortune from a sore throat remedy called Tonsiline (whose trademark was a giraffe with a bandaged throat). Construction began in 1925, and upon Ink's death in February 1916 Ink's son assumed supervision of the project. Construction costs were reported at $1 million.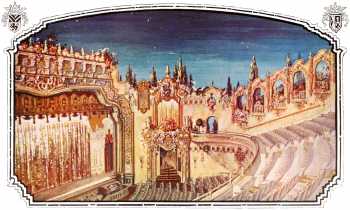 Illustration of the auditorium in the 1920s
The interior design of the theatre incorporates the giraffe trademark of Tonsiline in one primary panel above the proscenium, since its financial success had made the theatre possible.
The 2,000-seat theatre opened in late November 1926 with a screening of Tin Hats

starring Conrad Nagel and Claire Windsor, along with vaudeville stage entertainment and music played by organist Banks Kennedy on the Kilgen 3-manual 9-rank theatre organ (built by George Kilgen & Sons, Inc. of St. Louis, Missouri).
The theatre was designed by architect John Eberson in an Atmospheric style with a Spanish theme, the auditorium resembling a Spanish courtyard. The auditorium was decorated with some of Eberson's signature stuffed birds. The theatre still has one of the original cloud machines that makes the clouds march continuously across the blue ceiling sky. Eberson struggled to find contractors capable of creating his lavish designs and so formed the Michael Angelo Studios, comprised of his own skilled decorators, to handle this aspect of each theatre project.
The theatre's policy of vaudeville and feature films included road shows, and in the 1930s the theatre began an active program of civic service with school events, merchants shows, and operas. Stage shows were revived in the 1940s with big bands, including the Harry James and Count Basie orchestras.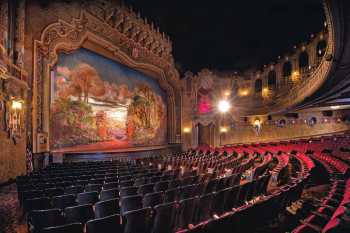 Auditorium in the 2010s
Like many theatres, the Palace's fortunes waned in the 1950s and 1960s, and eventually in February 1976 the theatre closed. Under threat of demolition the Canton Jaycees stepped forward to act as the holding organization until a group of concerned citizens could be mobilized form The Canton Palace Theatre Association.
The theatre reopened in April 1980 with the film The Sound of Music

, which had played at the theatre for 42 weeks from 1965 to 1966. Pearl Ink, widow of James Ink whose father built the theatre, attended the reopening. Thereafter a program of rolling restorations began and since then over $4 million has been spent on improvements.
The Kilgen organ is still in situ and following its restoration in 1993 it now has 11 ranks. It is the only Kilgen organ which is still in its original home.
Photo credits are noted where data was available at the time of inclusion. Photos displayed here may be subject to copyright; refer to our Copyright Fair Use Statement regarding our use of copyrighted media and contact us

with any concerns.
Photographs copyright © 2002-2023 Mike Hume / Historic Theatre Photos unless otherwise noted.
Text copyright © 2017-2023 Mike Hume / Historic Theatre Photos.