Overview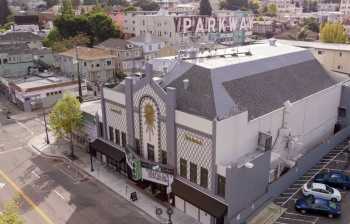 The Parkway in 2022
The Parkway is a single screen movie theatre which originally opened in September 1925 with the movie I'll Show You the Town

and short Kid Speed

.
The exterior has a Spanish Renaissance style whereas the interior is designed with an Egyptian theme. Some descriptions afford the interior an East Indian theme in addition to Egyptian, however photos which came to light in 2021 during a planning application lodged with the city suggest a solid Egyptian theme.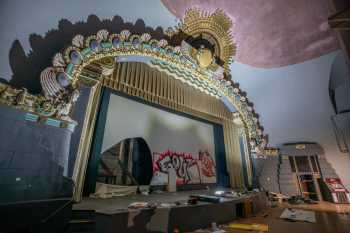 Auditorium in 2022, pre-restoration
The Parkway was equipped with an organ which had a single chamber located above the proscenium, behind the stylized plasterwork sunburst.
In its later years the Parkway became a suburban art house cinema serving beers and pizza. It was then split into two screens resulting in one screen at main floor level and a second screen in what had been the balcony. The theatre ultimately closed in March 2009.
In March 2019 it was announced that the Parkway would reopen as a cannabis dispensary. The development stalled due to the Covid-19 pandemic however was completed in 2022.
As of mid-2022 restoration of the historic theatre is yet to be completed, however current tenants Ivy Hill Cannabis fully intend to restore the theatre and remove the twinning which separated the balcony from the main auditorium.
Photo credits are noted where data was available at the time of inclusion. Photos displayed here may be subject to copyright; refer to our Copyright Fair Use Statement regarding our use of copyrighted media and contact us

with any concerns.
Photographs copyright © 2002-2023 Mike Hume / Historic Theatre Photos unless otherwise noted.
Text copyright © 2017-2023 Mike Hume / Historic Theatre Photos.