Overview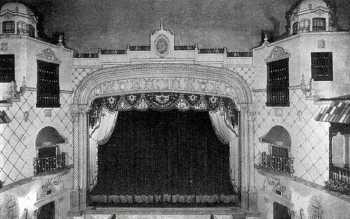 Auditorium in 1930
The Ritz Theatre opened in December 1929 with It's a Great Life

featuring the Duncan Sisters

. Built by the R. and R. Gulf Amusement company, the 1,400-seat theatre was hailed at its opening as the eleventh largest theatre in the state of Texas.
The theatre was designed in an Atmospheric style with a Spanish courtyard theme, by theatre architect W. Scott Dune and decorated by the Peckenpaugh Construction Co. The blue sky ceiling had "cloud effects" thrown onto it from two cloud machines mounted on turrets near the ceiling, and featured 58 twinkling stars.
The theatre closed on 11th May 1946 so that it could be remodeled in an Art Deco style, to the plans of architect Robert L. Volger. The theatre reopened on 30th August 1946 with Personality Kid

starring Anita Louise.
The theatre closed on 29th August 1972, to be renamed as the Ritz Music Hall reopening on 24th July 1974 and featuring acts such as Willie Nelson, Jimmy Buffet, Bruce Springsteen, Metallica, Def Leppard, Motley Crue, and many others. This lasted until 1989.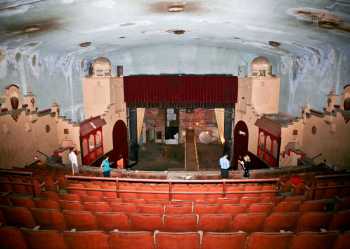 Auditorium in the 2010s
Having been closed for over 20 years, the theatre was placed onto the 2012 list of Texas' Most Endangered Places

by Preservation Texas

.
In 2014, an organization called Corpus Christi PATCH

dedicated itself to the restoration of the theatre, with the hope to repair, restore, and revive the historic theatre to its former glory.
As of early 2023 the nonprofit had raised $400,000 to $500,000 through grants and fundraising, and was working to get The Ritz Theatre recognized as a Texas Historical Landmark and a National Historic Landmark.
Photo credits are noted where data was available at the time of inclusion. Photos displayed here may be subject to copyright; refer to our Copyright Fair Use Statement regarding our use of copyrighted media and contact us

with any concerns.
Photographs copyright © 2002-2023 Mike Hume / Historic Theatre Photos unless otherwise noted.
Text copyright © 2017-2023 Mike Hume / Historic Theatre Photos.