Overview
The Ritz Cinema opened in early May 1932, originally to have been called the Citadel Cinema, reflective of the building's façade. The Ritz was built for, designed by, and operated by, Major William James King.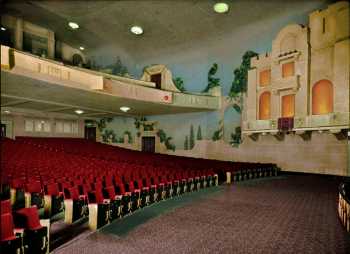 Digital restoration of the Atmospheric auditorium
The Atmospheric style auditorium featured a Spanish garden theme with stone-clad walls and painted woodland settings, designed by decorative artist F.L. Philie. The garden theme ran from the entrance area all the way through into the auditorium.
The cinema was equipped with a Compton 3-manual, 6-rank organ. The proscenium opening was 40 feet (12.2m) wide and the stage was 14 feet (4.3m) deep. There were four dressing rooms for the variety artists who were occasionally booked in the early years of the cinema.
The cinema's name came under the ABC banner from August 1962. In May 1968 the cinema closed for modernization and the decorative Atmospheric scheme was removed, in a scheme designed by architect C . 'Jack' Foster. The cinema reopened in late August 1968.
In early 1973 the cinema closed for conversion into a triplex, reopening in early March 1973. It was later renamed as a Cannon cinema when Cannon took over the ABC theatre chain. As the Cannon, the cinema closed in April 1993.
In July 1993 the cinema reopened under independent management as the Belle-Vue Cinema. By the year 2000 the cinema had been renamed the Cinemax.
In late 2001 the cinema was demolished to make way for apartments, a health center, and retail units to be built on the site.
Photographs copyright © 2002-2022 Mike Hume / Historic Theatre Photos unless otherwise noted.
Text copyright © 2017-2022 Mike Hume / Historic Theatre Photos.