Overview
The Savoy Cinema opened on 29th November 1929 with On With the Show

starring Arthur Lake. The cinema was built for Associated Irish Cinemas, a subsidiary of Associated British Cinemas (ABC).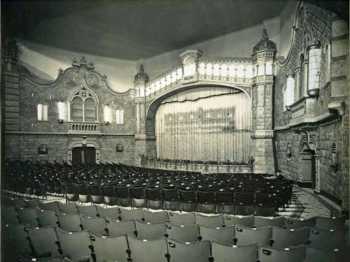 Auditorium in 1930
The massive 2,900-seat movie theatre was designed in an Atmospheric style by architect Frederick Charles (F.C.) Mitchell, with an Italian courtyard theme. The auditorium side walls featured Venetian buildings, the proscenium arch represented the Rialto Bridge in Venice, and a representation of the Doge's Palace in Venice was painted on the title curtain. A blue sky ceiling soared above the great auditorium.
The cinema was taken over by the independent Elliman Group in 1939, and in 1946 it was taken over by Odeon (Ireland) Ltd. The auditorium was renovated in 1960 by the Rank Organization, replacing the atmospheric features with a modern and contemporary style.
The single screen cinema was twinned in 1969 and triplexed in 1975. In 1979, it became a five-screen cinema, then six screens in 1988. In 2014 it was increased to seven screens. In 2016 Screen 2 was converted into three screens and in 2018 Screen 1 was converted into five screens.
The cinema complex is operated by IMC Cinemas, and the classically-styled exterior still dominates O'Connell Street in Dublin.
Information in part sourced from Cinema Treasures

.
Photographs copyright © 2002-2023 Mike Hume / Historic Theatre Photos unless otherwise noted.
Text copyright © 2017-2023 Mike Hume / Historic Theatre Photos.