Detailed Information
The $500,000 single screen Alameda Theatre opened with capacity for 2,168, split between Orchestra (main floor) and Balcony levels, and was built by the Nasser Brothers. The opening feature was Rebecca of Sunnybrook Farm (1932)

starring Marian Nixon, and Laurel & Hardy short The Chimp

.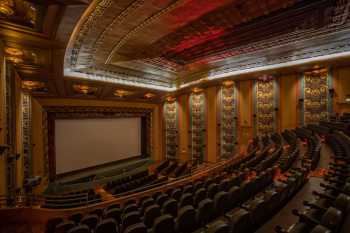 Auditorium in 2022
The Alameda Theatre was the last grand movie palace to be built in the San Francisco Bay Area and was designed by noted Bay Area theatre architect Timothy L. Pflueger. The Oakland Tribune noted that gold leaf, terracotta tones, olive greens, and pastel shades were used in profusion.
At its opening the Alameda boasted the largest projection screen on the US West Coast at 50ft by 30ft (15.2m by 9.1m).
In 1975 the theatre was triplexed, and reopened as a 3-screen movie theatre on 12th March 1975.
The Alameda Theatre closed in the 1980s and was later used as a gymnastics studio.
In 2005, plans were proposed to renovate and reopen the theatre. The $37.3 million project comprised the $15.2 million restoration of the main theatre into its original main floor and balcony configuration, and the $22.1 million construction of a seven screen cineplex and parking garage adjoining the historic theatre.
Work commenced in September 2006, with the aim of restoring as much of the building's original elements as possible while also modernizing them. On the exterior, the vertical sign and marquee ceiling/canopy was restored and repainted.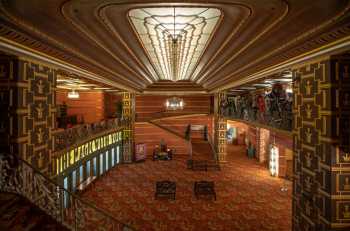 The restored lobby in 2022
The lobby's ceiling and plaster floral designs were repainted in silver and gold leaf to match the original. The lobby's coffered ceiling was repainted while the elegant chandelier's 180 etched glass panels were taken down, cleaned, and restored or replaced. The lobby's twin torchieres, which had been packed-up upon the theatre's closure ready to send to the Smithsonian Institution, were restored and now have pride of place flanking the entrance to the theatre's newly-created Concessions area.
In the auditorium new acoustical panels were installed, wrapped in fabric and painted in gold leaf to match the walls. The theatre's original title curtain was also restored. The project was masterminded by The Henry Architects

. The Alameda Theatre and Cineplex reopened on 21st May 2008.
As of mid-2022 the Alameda Theatre remains a busy and popular first-run movie theatre.