Detailed Information
The architects of the Majestic were Chicago-based firm Rapp & Rapp. The containing Majestic Building was designed by architect Edmund R. Krause.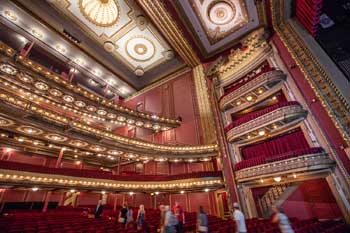 The restored auditorium in 2016
As dictated by Illinois state law at the time, the theatre was designed with racial segregation in mind, and as such patrons seated on differing levels used different entrances. Sightlines within the auditorium also minimized the view of lower-price ticketholders from the higher-price ticketholders.
The Majestic originally opened as a vaudeville theatre and joined the Orpheum Circuit in the 1920s.
The theatre closed in 1932 due to the Great Depression and remained dark for nearly 15 years.
In 1945 the theatre was purchased by the Shubert Organization who reopened it as the Shubert Theatre in September 1945.
At the start of the 1990s the Shubert Organization did not have a subscription series in Chicago and so could not guarantee regular business at the theatre, and it sat empty from June 1990.
In July of 1991 the Nederlander Organization bought the lease on the theatre, taking effect from 1st August that year. The theatre reopened in early November 1991.
In early May 2004 it was announced that the theatre would be known as The LaSalle Bank Theatre, in exchange for an undisclosed sum toward the $25 million renovation of the theatre which would commence in 2005.
The theatre was extensively renovated in 2005-06 and the current color scheme is believed to match the original. Current seating capacity is 1,800 (originally 2,500). The theatre has largely retained all its original fixtures and fittings including intricate lobby paneling, lighting, and mosaic floor.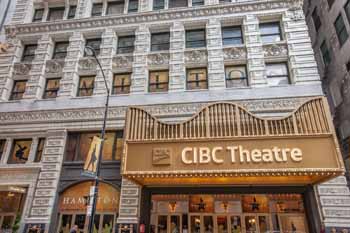 Theatre exterior in 2019 during the run of "Hamilton"
Since 2004, naming rights to the theatre have been sold. Over the years it has been called the The LaSalle Bank Theatre and the Bank of America Theatre.
More recently it was known as the PrivateBank Theatre, until September 2017 when the name was changed to the CIBC Theatre, as a result of the June 2017 acquisition of PrivateBancorp by Canadian bank CIBC.
Today, Broadway in Chicago

brings Broadway's biggest hits to the theatre in addition to premieres and pre-Broadway tryouts, and in late 2016 it became home to the only resident production of Hamilton in the US outside of Broadway. The long-running production closed on 5th January 2020.
Broadway In Chicago offers a public tour of our theatres every Saturday at 11am. Each tour visits two of our three theatres: the Oriental Theatre, the Cadillac Palace and the CIBC Theatre. The tour showcases the glittering vintage décor inspired by the foremost theatre designers of our time, who created through their designs in the French Renaissance styling. You will also learn about the cutting edge technology that makes each theatre the home to today's most complex theatrical productions and the recent restorations that brought beauty and elegance back to these century-old theatres.