Detailed Information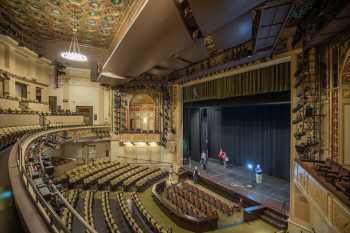 The Hanna Theatre in 2022
The Hanna Theatre was conceived by industrialist and publisher Daniel Rhodes Hanna (publisher of the Cleveland News) as part of a larger building complex, built as a memorial to his late father Mark A. Hanna, who was a prominent Cleveland Senator.
The Hanna Building and its theatre were constructed on East 14th Street, very close to the up-and-coming 1920s theatre district half a block north on Euclid Avenue.
The 1,400-seat theatre was built with 827 seats at orchestra (main floor) level and 570 seats in the balcony. The theatre featured Pompeian-style décor with a polychrome coffered ceiling.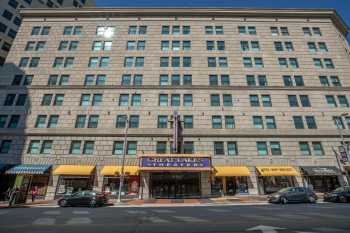 The Hanna Building in 2022
The building and theatre were designed by architect Charles A. Platt, and the theatre is understood to be his only theatre design.
Interior decoration of the theatre was in a Greek Revival style by Faustinno Sampietro and originally included green and gold carpets, dark green seats, frescoed walls, a fireplace, and Louis XVI gilt furniture. The coffered ceiling is made up or circular and octagonal medallions and features gilded depictions of Cupid, Psyche, and Pegasus.
During construction, Hanna decided to choose a personal seat to use in the fifth row of the main floor seating. Unhappy with the leg room, he insisted that only that row be widened from the standard 31 inches to 35 inches.
The Hanna's original main drape (house tabs) is uniquely part of Cleveland's entertainment history. It was common for traveling companies to leave behind mementos of their appearance: a shirt, poster, cast signatures, original drawings and such, all attached to the canvas liner of the stage curtain. Today this curtain resides in the Special Collections department at the Michael Schwartz library at Cleveland State University

.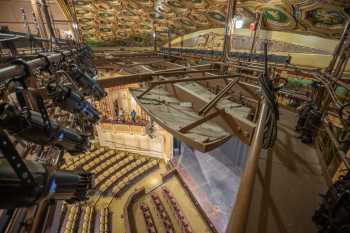 Lighting bridge in the theatre's ceiling, obscuring the original 1921 coffered ceiling
The theatre closed in 1989, and was acquired in 1993 by Ray Shepardson who had a vision of developing the theatre into a cabaret house. The theatre reopened in 1996 – on the theatre's 75th anniversary – but would only operate for 11 months as a cabaret theatre before closing.
On 24th August 1999 the theatre was acquired by the Playhouse Square Foundation, becoming the fifth and final unit of Playhouse Square Center.
Following restoration of the other theatres in Playhouse Square, the Hanna Theatre was restored and reopened in 2008 but with 550 seats (450 at main floor level and 100 in the balcony) in place of the original 1,400.
Changes in the auditorium tend to elicit strong responses, such as the much reduced-depth balcony, extensive technical facilities obscuring the original auditorium decoration, and a 3-part thrust stage at main floor level. The tech build out, while extensive, does not touch the historic fabric of the auditorium and is fully reversible.
If you have a group of 10 or more guests planning to attend a free tour date, please contact David Greene

or fill out the form on this page

.