Detailed Information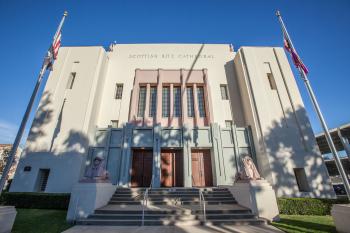 Façade of the 1925 building
The current building, designed by architect Joseph J. Blick, is the Scottish Rite's third building in Pasadena, following the Stanton Building (1895-1905) and North Fair Oaks Avenue (1905-1925). In addition to meeting rooms and offices, the building houses a museum, a large auditorium with supporting scenery, actor, prop, makeup, and wardrobe spaces, plus a large banqueting hall underneath the auditorium at street level. Groundbreaking took place in April 1924 and the building was dedicated on 17th February 1925.
Ohio-based M.C. Lilley & Co was engaged to provide the costumes, props, and scenery necessary to present the degree work. Scenery was outsourced to Sosman & Landis of Chicago, who specialized in backdrops for Masonic theatre in the late 19th and early 20th Centuries. Sosman & Landis backdrops went into Scottish Rite theatres in cities such as Santa Fe, Guthrie, Austin, and Dallas. Some scenery came to Pasadena from a collection previously sold to the Scottish Rite in Little Rock, Arkansas, and later sold back to Sosman & Landis; the remainder was new scenery painted in late 1924 by Thomas G. Moses of Sosman & Landis, who also oversaw the scenic installation on-site.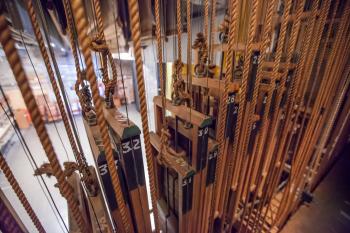 "Brown's Special Counterweighted" scenery flying system
The "Brown's Special Counterweighted" system installed at the Pasadena Scottish Rite is a cabled-guided single purchase counterweight flying system featuring wooden arbors (cradles) on three-inch spacings, operated from the stage floor or fly floor, Stage Right. Rope locks were not necessary as the permanently-hung scenery allowed for exact counterweighting, plus the inefficiencies of the system (e.g. multiple sheaves/pulleys without bearings) contributed to resisting movement. The "Brown" moniker has been generally attributed to M.C. Lilley's salesman of the time, Bestor G. Brown, however following investigations by Wendy Waszut-Barrett 

, it seems credit is probably due instead to the subcontracted Sosman & Landis master stage carpenter who oversaw all of S&L's Masonic installations, who happened to also have a last name of "Brown".
During the Great Depression membership numbers dwindled, and the burden of a large mortgage threatened the very existence of the Pasadena Scottish Rite Cathedral. Charles Henry Cobb made significant financial contributions, and in November 1935 the building's auditorium was renamed and dedicated as the Cobb Auditorium, in his honor and in recognition of his financial contributions to the organization.
As a general maintenance procedure, the scenic backdrops were rehung in 1944 by Ross Merrill and Harry Billheimer. In the same year the theatre received its first amplified sound installation.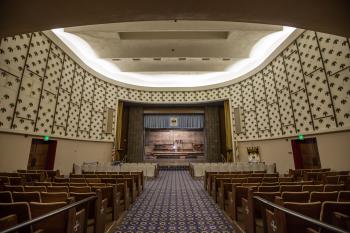 The remodeled auditorium
In November 1964 it was agreed that a complete remodeling of the 40-year old Cobb Auditorium would take place. Principal items in the $150,000 remodel were to be:
Electrical switchboard replaced with a new console.
Sound Department moved from an onstage position to an enlarged Projection Booth at the rear of the Balcony.
Two new drop curtains.
Stage to be extended three feet with side walls curving in toward the stage opening.
Auditorium side doors re-positioned to allow for the addition of extra seats.
New ceiling, with removal of existing skylight.
New carpeting and seating throughout.
The remodeling project was completed in early April of 1965, and in 1970, the 1925 organ console was replaced. The original 1925 organ had been presented by Edward Sisson Crump in memory of William Henry Vedder.
The Pasadena Scottish Rite continues to be an important part of the Pasadena community, and their facilities are available for rental. For more details and information, check out their website 

.
The Pasadena Scottish Rite is a working Masonic Temple and does not offer general tours. Visitor inquiries should be directed to the office either in person or to rentals@pasadenascottishrite.org (office hours are 9am to 3:30pm Tuesday to Friday).