Detailed Information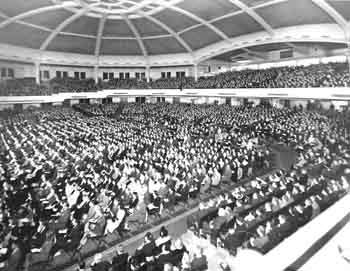 San Antonio Municipal Auditorium
The San Antonio Municipal Auditorium was built as a memorial to American soldiers killed in World War I and was designed by Atlee Ayres in a Spanish Colonial Revival style.
The main auditorium was reported to have sat 6,500, looking onto a large stage with a proscenium arch 44ft high. The Orchestra Pit was mounted on a hydraulic lift and could be moved from regular height – below the stage, up to the stage level.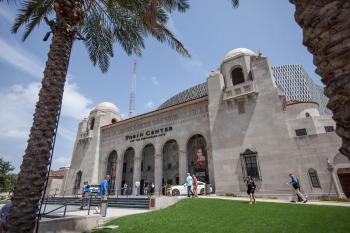 Historic façade in 2018
A major fire in January 1979 destroyed the roof and interior of the municipal auditorium. It was added to the National Register of Historic Places in 1981, and a renovated and modernized auditorium was opened in 1985 seating 4,884.
A $142 million project to redevelop the then underutilized building was approved in 2010. The original façade of the San Antonio Municipal Auditorium was preserved and incorporated into the performing arts center which opened in 2014. The project was designed by LMN Architects in partnership with executive architects Marmon Mok Architecture.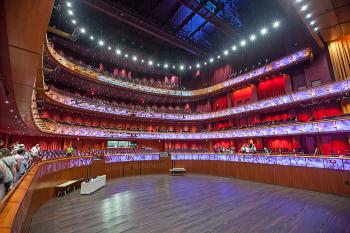 H-E-B Performance Hall
Inside is a 1,746-seat Broadway-style auditorium (H-E-B Performance Hall) with adaptable flat-floor, a 232-seat studio theatre (Carlos Alvarez Studio Theater), and an outdoor event/performance plaza (featuring 32ft video wall) which connects the venue to San Antonio's vibrant River Walk for the first time.
The main performance hall features a flexible "flat-floor" arrangement which allows for automated transformation between a flat ballroom-style floor and theatrical seating. The changeover is automated and operated by a single person.
The H-E-B Performance Hall is one of San Antonio's primary performance spaces.
Complimentary tours of the Tobin Center are available to groups of 10 or more. Tours will be scheduled based upon availability. Please call (210) 212-0913 

to schedule a tour of the venue.