Overview
The Astoria opened in August 1929 as a super-cinema at a reported cost of £250,000. It was the first of the four famous Astoria cinemas to be built, followed by the Astoria Old Kent Road (demolished), the Astoria Streatham, and the Astoria Finsbury Park, all built in the suburbs of London by independent exhibitor Arthur Segal.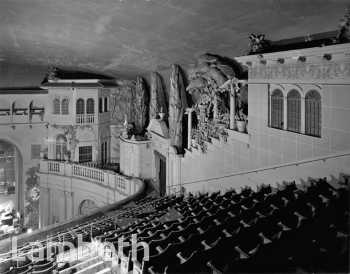 Brixton Astoria's balcony in 1974
The opening show was the Al Jolson film The Singing Fool

followed by a variety act, including Heddle Nash and Derek Oldham which was broadcast by the BBC.
The Astoria was reported as accommodating 4,750. The fully-equipped stage was 40ft (12.2m) deep with adjoining dressing rooms, band rooms, and an orchestra pit. The Compton 3-manual 12-rank organ was inaugurated by George Pattman. The Astoria was notable for the placement of its Projection Booth, slung under the balcony.
"The Stage" newspaper reported that: the lighting effects playing upon the ceiling allowed for morning, noon, and night effects. Cyprus trees flank each side of the proscenium, and the side walls give the appearance of a terraced garden seen through graceful colonnade. On either side are towers, one of which contains the organ. Statues are in the alcoves, which are a feature of the wall decoration. The top of the proscenium is a mediaeval Italian bridge with gates leading to a balcony. From this balcony artistes and chorus will sing. Special attention has been paid to the needs of stage production, and everything possible has been hastened for the presentation of big spectacular shows.
The Astoria was taken over by Paramount in December 1930, who would later go on to sell the building along with their other Cinemas, to Odeon in November 1939. Later still the name was changed to the Odeon Astoria, and while under the ownership of the Rank Organization the Astoria was finally closed as a cinema on 29th of July 1972.
In September 1927 the Astoria was converted into a discotheque, known as the "Sundown Centre". The club was not a success and closed down some four months later. In May 1974 planning permission was sought to demolish the Grade II listed building and replace it with a motor showroom and petrol station. However, the redevelopment scheme was scrapped. The building was kept heated after it closed, and was used as an equipment store by the Rank Organisation.
Being one of the biggest non-arena venues in London, the Academy has been used by many very successful acts. It has also been voted venue of the year twelve times since 1994 in the annual NME Awards. In addition the venue has won the Music Week Award for Venue of the Year several times including 2009.
Photographs copyright © 2002-2023 Mike Hume / Historic Theatre Photos unless otherwise noted.
Text copyright © 2017-2023 Mike Hume / Historic Theatre Photos.