Overview
Opened as the 2,414-seat Avalon Theater in August 1927, the Avalon was designed as a combination vaudeville and motion picture theatre and was famous for its elaborate and exotic Middle Eastern interior.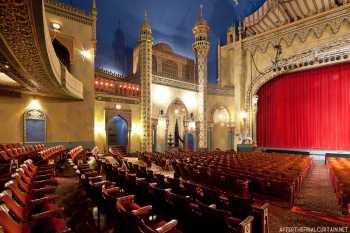 Auditorium
The Avalon was a first-run theatre until it closed in 1967. After being sold in 1970 it served as the Miracle Temple Church for 14 years.
In 1985, the building was purchased by Ed and Bettiann Gardner, the founders of Soft Sheen hair care products. The Gardners renovated and reopened the theatre as a performing arts venue two years later, renamed the New Regal Theater in honor of the old Regal Theater in Bronzeville, a celebrated cultural center for Chicago's African American community beginning in the 1920s.
In May 1987, the theatre received a $1 million dollar grant for renovations from Illinois Development Action Grant program. The grant was part of a financial package totaling $4.1 million. The theatre received Chicago Landmark status in June 1992.
After 18 years, in June 2003, the Gardners closed the theatre due to low attendance and operational cost of the building.
In 2008 the theatre was purchased by Regina Evans with the help of state funds of $2.36 million, with the intention of reviving the theatre as a cultural venue. Evans secured a state loan for $1.25 million for renovations but allegedly used the funds for personal use. The theatre was foreclosed and the Federal Deposit Insurance Corp. acquired it in 2011. It was later sold to Community Capital Investment, LLC.
Jerald Gary, President and Chief Investment Officer of Community Capital Investment Partners, LLC subsequently purchased the theatre for $100,000. Despite a pledge of $1 million from rapper and Chicago native Kanye West, Gary fought for over 10 years to reopen the theatre while struggling with the crumbling venue's near-monumental maintenance.
As of 2022 the theatre remains closed, however in March 2022 it was announced

that the Cook County Land Bank Authority purchased the back taxes owed on the theatre such that the agency would own the property for the next three years while Chicago officials put together a redevelopment plan for the theatre. At that time it was stated that Gary could still pay the back taxes within six months and win back ownership of the building.
The Avalon Regal was one of the theatre's featured in the 2019 documentary Going Attractions: The Definitive Story of the Movie Palace

.
Photo credits are noted where data was available at the time of inclusion. Photos displayed here may be subject to copyright; refer to our Copyright Fair Use Statement regarding our use of copyrighted media and contact us

with any concerns.
Photographs copyright © 2002-2022 Mike Hume / Historic Theatre Photos unless otherwise noted.
Text copyright © 2017-2022 Mike Hume / Historic Theatre Photos.