Detailed Information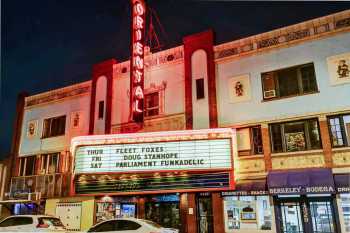 Theatre Exterior
The Denver Post observed that "the Persian theme in architecture is carried throughout the new theatre" with "many startling effects in the decoration of the interior". The twilight atmosphere of a Persian courtyard prepared the theatergoer for glamour and excitement on the screen. Above the courtyard walls, which extended about two-thirds of the way up the theatre's walls, were large wall murals portraying desert scenes with minarets, domes, and palm fronds. Speaker recesses were designed to resemble balconies.
The colors of the seats, curtain, and draperies imbued the theatre with "rich Oriental tones". The stage curtain was composed of rose-colored velvet, while the draperies were of heavy hose silk threaded with gold. The seats were rose-colored leather striped with black.
A small orchestra pit was located in front of the stage, which included a $25,000 theatre organ supplied by the Robert Morton Organ Company of Van Nuys, California.
In an effort to boost attendance in the 1960s, the theatre was given a facelift with plush seating, new carpeting, fresh paint and a bigger projection screen, however ultimately the theatre closed in 1987. From 1987 to 1991 the theatre housed Grace Chapel, a church which eventually outgrew the facility.
From 1991 the theatre sat vacant, until 1994 when a revival was attempted as a home for art films. This was short-lived, and from 1996 the theatre became an occasional venue for music and comedy events.
In 2005 the theatre was bought by new owners who turned it into a live music venue catering for an audience of up to 700.
The Oriental now serves as an anchor of the bustling Tennyson Art and Business District and, more broadly speaking, the interests of Denver's burgeoning cultural scene offering music, comedy, film, and other live performances.