Detailed Information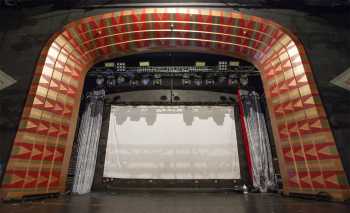 The theatre's proscenium, preserved from its 1914 appearance
In the early 1910s Main St boasted a busy theatre scene with around 20 small theatres vying for competition. The then National Theater was deemed too small and so was rebuilt on a larger scale, becoming the largest theatre on Main St by capacity when the new building opened with 600 seats in February 1914.
By the 1920s patrons were migrating over to the new, more spacious and luxurious movie palaces being built on South Broadway. The theatres on Main St declined and began catering to different audiences, converting to alternative uses or simply shuttering. The Regent changed from being a first-run house to a second-run house, then in the 1940s underwent a "rebirth" to modernize it with a sleek new façade and marquee.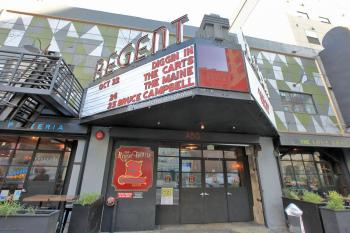 The theatre's "bull nose" marquee dates from the 1940s
Over the course of the years the Regent became a grindhouse pumping out B-movies, and toward the end of the 20th Century became an all-night adult movie venue. It ultimately closed as a film house in 2000. Developer Tom Gilmore acquired the lease in 2006 and the space was occasionally used as an art and performance venue by a variety of promoters.
In 2012 the theatre was taken over by long-time music promoter Mitchell Frank, and the Regent reopened in November 2014 as a multipurpose live entertainment venue with capacity for 1,100. Although the Orchestra seats have been removed the raked floor remains in place, as does much of the original auditorium decoration including the fine proscenium arch. Sadly the gothic-inspired ceiling was too fragile to be preserved.
In May 2019 it was announced that Live Nation 

had acquired Spaceland Presents 

, "longtime staple of creative programming and emerging music in Los Angeles", and their LA-based venues including the Regent Theater. Live Nation already operate several venues in the LA metro area including The Wiltern.