Detailed Information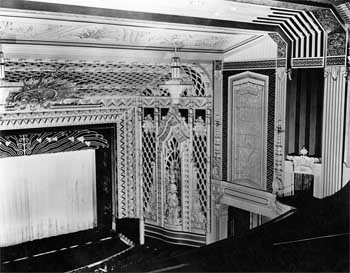 The Fox Wilshire, as photographed at its opening in 1930
The theatre was S. Charles Lee's second theatre design, following the Tower Theatre in downtown Los Angeles (opened 1927). Lee would go on to design the iconic Los Angeles Theatre which opened January 1931.
Originally seating 2,295, the theatre now has capacity for 1,900 with the rear Orchestra section having been turned into an extended lobby, bar, and circulation space. The original house curtain opened with vertical panels rising from the center out to the sides, and with its Art Deco curlicue design must have been quite a sight to see.
The balcony has a movable curtain which can reduces the balcony-level capacity by roughly half for smaller shows, although its use precludes any form of projection or followspots being used from the projection booth.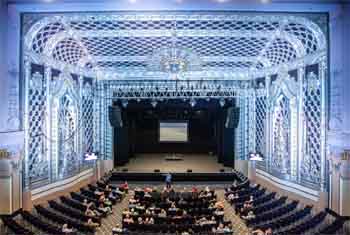 Proscenium, as photographed in 2019
Despite two renovations and various modernizations, the theatre retains much of its original appearance in terms of design, but not in terms of colors – apart from the magnificent proscenium.
The theatre's original color scheme was silver, black, and coral. At the time of opening the proscenium's complex open plasterwork doubled as the openings to the theatre's organ chambers and was finished in silver, with colored electric lamps behind which could create multi-colored light effects spilling into the auditorium. The lobby and Front-of-House areas were finished in high contrast decoration in silver and black.
For many years the theatre operated as one of 20th Century Fox's premiere theatres. The theatre's wide proscenium (stage opening) allowed for an extra large screen, which, coupled with re-equipping for 70mm movie projection in 1959, made it a natural home for long runs of widescreen films such as Exodus, Goodbye Mr Chips, Fiddler On The Roof, Man Of La Mancha, and The Sound of Music which ran for 93 weeks at the theatre!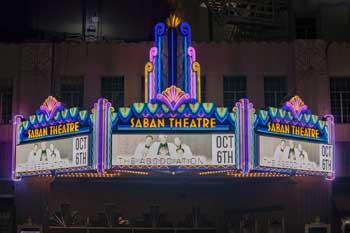 Marquee at night, upgraded to a digital display
Fox closed the theatre in 1977, then in 1981 it was taken over by the Nederlander Organization and renovated for stage use.
Temple Of The Arts has owned and operated the theatre since 2005, and in 2009 it was renamed the Saban following a $5 million grant from Haim and Cheryl Saban. In addition to popular music events, the theatre hosts religious groups Churchome 

and the Agape International Spiritual Center 

with regular weekly bookings.
Many television recordings have taken place at the Saban including Last Comic Standing, Eddie Murphy: One Night Only, Extraordinary: Stan Lee, and movies such as Night Of The Running Man.
As of mid-2017 the Saban does not offer tours however they host many events which are available to book online at the theatre's website 

.
Flying System
Average batten length
53ft 2in (16.2m)
Distance between Linesets
6in (0.15m)
Flying System
Single Purchase Counterweight
Maximum Trim Height
56ft 8in (17.3m)
Number of linesets
46 (40 usable)
Operation
Stage Right at Stage level; Linesets 12-22 operable only from Crow's Nest, 9ft 8in (3m) above Stage level, and have a 10ft (3m) lower trim level
General Information
Balcony Overhang
Row I of Orchestra (i.e. the row behind row H)
Movie Projection
Cinema Screen
Perforated; 46ft by 20ft (14m by 6.1m)
Distance from Balcony Rail to Screen
65ft (19.8m)
Distance from Projection Booth to Screen
165ft (50.3m)
Projector
Christie Solaria Series CP4220 4K (22,000 lumens)
Orchestra Pit
Apron overhang
43in (1.1m)
Height to Auditorium level
30in (0.8m)
Height to Stage
42in (1.1m)
Widest width distance
13ft (4m)
Stage Dimensions
Apron to Back Wall
33ft 5in (10.2m)
Apron to Back Wall Columns
31ft 6in (9.6m)
Center line to Stage Left
39ft (11.9m)
Center line to Stage Right
32ft 4in (9.9m)
Curtain line to Apron
7ft (2.1m)
Grid Height
66ft 4in (20.2m)
Proscenium Height
31ft (9.4m)
Proscenium Width
50ft (15.2m)