Detailed Information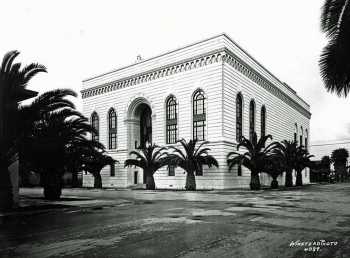 Long Beach Scottish Rite in 1927
Following a groundbreaking ceremony in July 1925, the building's skeleton of steel – weighing roughly 500 tons – was installed in just 27 days.
The cathedral was dedicated on Saturday 11th September 1926, the culmination of a three day ceremony which saw several hundred Masons invested. Scottish Rite Masons from the Valleys of San Diego, Pasadena, Santa Barbara, and Los Angeles attended the dedication. The Los Angeles Times noted that the new building plus furnishings were estimated to have cost $500,000.
The building was designed by architects Wright and Gentry in a Romanesque Revival style, utilizing terracotta on much of the exterior detail. The general contractor was W.E. Campbell.
The building's auditorium was equipped with a 2-manual, 17-rank organ (opus 156) supplied by the Reuter Organ Company in Kansas. The original organ is still in situ although may need some work.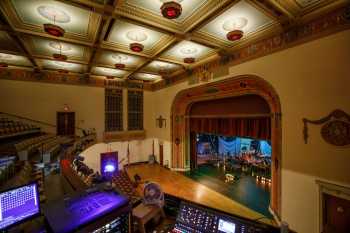 The 1926 auditorium, now called the
Ernest Borgnine Theatre
, as photographed in 2023
In 1980, the building became the eighth structure to be designated as a Long Beach Historic Landmark. At the time, the Los Angeles Times referred to it as an "enormous" building with an "imposing façade" and an "elaborately decorated main auditorium."
More recently, the theatre space has been renamed as the Ernest Borgnine Theatre, in honor of Ernest Borgnine, 33° degree Mason, Academy Award winner, and Screen Actors Guild Lifetime Achievement Award winner.
The 800-seat theatre which now bears his name is capable of hosting a range of theatrical, social, corporate, and wedding events. Their website is at ernestborgninetheatre.org

.
The 800-seat auditorium has both main floor and balcony seating in a traditional proscenium arch style theatre.
The theatre is home to over 70 historic backdrops, originally associated with masonic teachings and installed into the building in 1926, and now available for general use. Settings include landscapes, formal settings, and abstract art.