Overview
The State Theater, dubbed the "Pride of the Peninsula", opened in early October 1931 with the movie Smart Money

starring Edward Robinson.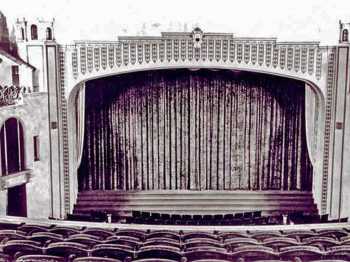 Auditorium in the 1930s
The 1,000-seat theatre was built by the Bay Shore Theater Corporation for a reported $125,000.
The State was designed in an Atmospheric style with a Spanish courtyard theme by M.J. Reid of architect firm Reid Bros., who at the time had designed around 40 theatres in Northern California (including the Merced Theatre), in addition to California landmarks such as the Fairmont Hotel in San Francisco, the Grand Lake Theatre in Oakland, and the Hotel del Coronado in San Diego.
In the early 1940s the gable roof entrance tower was squared-off with stucco in an Art Deco style.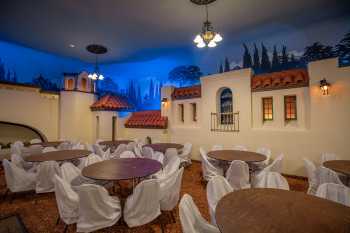 Upper auditorium in 2022, as
The State Room
After several decades the theatre closed in the early 1960s and was used by All Soul's Church for some time. The theatre ultimately closed on 13th March 1973.
In 1978, Robert Giorgi bought the building and despite some renovations kept the original auditorium intact.
The building was given over to a mix of offices, retail, and a ballroom which was created by dividing the auditorium horizontally into two floors, the ballroom (called The State Room) in the upper section of the auditorium, retaining the original atmospheric appearance.
More recently the stucco walls covering-up the original entrance tower were removed, revealing the original gable roof. Some of the original filigree had to be painstakingly restored by hand in a process that included restoring the original roof line of the steeple.
The State Room has been designated a Historic Resource by the City of South San Francisco.
Information in part sourced from The State Room

.
Photo credits are noted where data was available at the time of inclusion. Photos displayed here may be subject to copyright; refer to our Copyright Fair Use Statement regarding our use of copyrighted media and contact us

with any concerns.
Photographs copyright © 2002-2023 Mike Hume / Historic Theatre Photos unless otherwise noted.
Text copyright © 2017-2023 Mike Hume / Historic Theatre Photos.