Detailed Information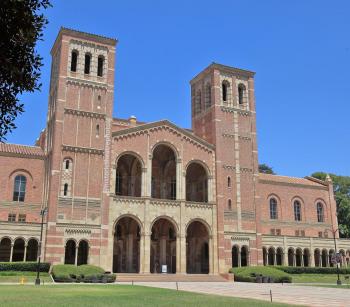 Royce Hall façade
The building's architectural style of Lombardic Romanesque resulted from architect David Allison's love of the form, its well-suited nature to brick (the desired building material), and its link to the founding of historic Italian universities such as Bologna and Padua.
The building had to be beautifully inspiring yet practical, and this was achieved by having an inner building as the auditorium, complemented by an outer building housing smaller lecture halls, classrooms, and offices. The colors of brick used across the building vary in a random pattern and span the 19 colors of brick available at the time of construction in 1929. Renovated areas use the same color palette but appear brighter and more obvious than their 1929 counterparts due to their shorter time being exposed to the effects of weathering.
Royce Hall, 2018
Royce Hall was designed with speech acoustics in mind, not for music, however successive remodeling has resulted in a regionally important concert hall and performing arts facility.
Adjustable wall openings at Orchestra level allow for variable acoustic responses and, when used in conjunction with the ceiling coves, adjustable curtains and adjustable hard/soft paneling and galleries in the Balcony walls and ceiling, can increase the hall's reverberation time by over 1 second.
The building sustained heavy damage in the 1994 Northridge earthquake which left one of the signature towers completely cracked horizontally and on the verge of collapse, necessitating immediate emergency strengthening work. Further inspections of the building resulted in a closure of four years to accommodate a $70.5 million seismic retrofit and renovation. It was a complex operation as the building's eligibility for National Register listing attracted scrutiny from both State and Federal levels, plus UCLA wanted to introduce some additional, non-original, facilities into the renovation such as a rehearsal hall (mirroring the size of the stage) and improved acoustics within the auditorium.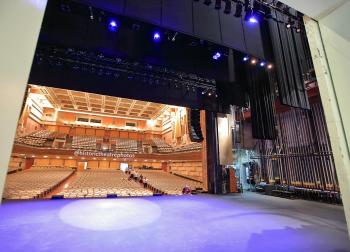 Stage at Royce Hall
The fully-functional stage features three types of rigging: 34 single-purchase linesets, 11 double-purchase linesets (necessitated to accommodate the Upstage Right entrance onto the Stage), and four motorized linesets which handle modern-day heavy loads: the downstage lighting bridge, the projection screen, and the two ceiling components of the symphonic acoustic shell.
Royce Hall is a favorite of the film and television industry due to its location and ability to emulate many US East Coast universities. It has been featured in TV shows House MD, Gilmore Girls, Buffy the Vampire Slayer, Quincy ME, The Bob Hope Show, and movies The Nutty Professor 1 & 2, Legally Blonde 1 & 2, Angels and Demons, Erin Brockovich, and Hancock.
As of mid-2017 Royce Hall does not offer tours however they host a multitude of events which are available to book online on the Royce Hall website 

.
Flying System
Fly Floor Height
21ft 9in (6.6m)
Linesets
49 7-line linesets: 34 single purchase, 11 double purchase, and 4 motorized
Loading Gallery Height
47ft 5in (14.5m)
System
Counterweight operated Stage Right at Stage level (double purchase linesets only operated from Fly Floor)
General Information
Seating Capacity
1,836 (Orchestra 1,203; Balcony 633)
Lighting
Control System
ETC GIO (ETC Obsession II as backup)
Dimmers
428 @ 2.4kW; 24 @ 6kW
Followspots
2 @ Strong Gladiator II 2.5kW Followspots; 2 @ COLORTRAN Colorarc 2000 2kW Followspots
Movie Projection
Projectors
2 @ Simplex XL 35mm Projectors with 4.5kW xenon lamphouse
Screen
40ft by 20ft high perforated front projection screen with full manual masking (permanently hung on Lineset 13)
Stage Dimensions
Center line to SL wall
38ft 911.6m)
Center line to SR pin rail
36ft 11in (11.2m)
Proscenium Height
23ft 6.5in (7.2m)
Proscenium Width
48ft 5in (14.9m)
Rear of plaster line to back wall
33ft 9in (10.3m)