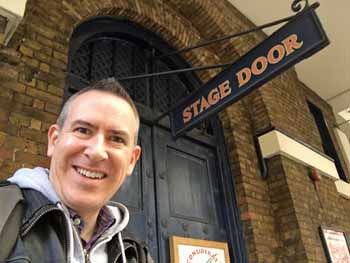 Mike photographing the Theatre Royal, Drury Lane, in London
Mike's interest in technical theatre was ignited by his father's role as Stage Manager with the critically-acclaimed Gilbert & Sullivan Society of Edinburgh

, staging annual shows at Edinburgh's historic Edwardian-era King's Theatre.
Yearly trips to see the King's pantomime, featuring Scottish legends such as Stanley Baxter, Una McLean, Russell Hunter, Allan Stewart, Jimmy Logan, Rikki Fulton, Walter Carr, and Johnny Beattie, always included a backstage visit after the show to meet the cast and to see the set, scenery painting, props, lighting, and special effects from the other side of the curtain. All this firmly fixed Mike on a path to pursue his interest in theatrical lighting design, set construction, and production management.
Through his relationship with the staff at the King's Theatre Mike was introduced to renowned UK Lighting Designer Francis Reid, and sat-in on his stage lighting plotting sessions for several pantomimes, furthering Mike's interest in a career in technical theatre.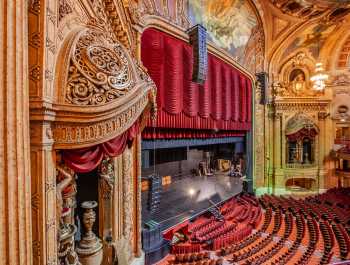 Chicago Theatre, Chicago: Auditorium from Balcony
Mike won a place on Scottish Youth Theatre's

summer school of 1991, and over the following years as a Scottish Youth Theatre (SYT) alumnus lit several productions for both SYT and XSYT Productions, the latter being an offshoot of SYT producing shows with SYT alumni. This included lighting productions for actors such as Brian Cox

, Blythe Duff

, and Colin McCredie

, in addition to XSYT being invited to take a show to Stratford-upon-Avon as part of the Antigones Project in 1992 with Mike designing lighting for the critically acclaimed Royal Shakespeare Company

.
In the mid-1990s Mike worked multiple summer seasons with the National Youth Music Theatre

(NYMT) both at the Edinburgh Festival Fringe

and in the prestigious Edinburgh Festival Theatre, featuring the largest stage in the UK at the time, for NYMT's flagship production Pendragon, filmed by the BBC.
As a direct result of his involvement with XSYT and lighting shows in Stratford-upon-Avon, in the late 1990s Mike was contracted to light a pre West End production of Jesus, My Boy starring renowned UK actor Tom Conti

. Mike's lighting and stage projection design was carried-over to the limited run in London's West End.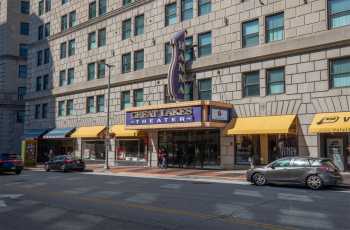 Hanna Theatre, Cleveland: Exterior
In the 2000s Mike continued to light productions for leading theatre companies in Edinburgh, and for many years was Production Manager for the Gilbert & Sullivan Society of Edinburgh

in addition to co-designing their sets.
Since 2010 Mike has been based in Los Angeles as a C-level IT professional with over 25 years experience working in Australia, North America, the UK, and Europe. In addition to advising IT startups on the US West Coast, Mike heads-up the Information Technology division of a highly-respected legal services company based in Los Angeles. You can read more about Mike's corporate career on LinkedIn

.
Mike earned his Honours degree in Computer Science from Edinburgh's Heriot-Watt University

, is recognized as a Chartered IT Professional by the UK Engineering Council

, and has the distinction of being a Fellow of the British Computer Society

.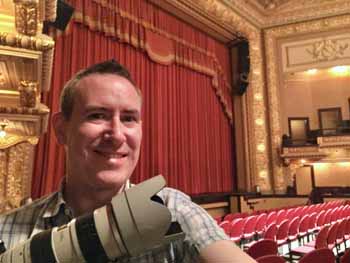 Mike photographing the Charline McCombs Empire Theatre in San Antonio, Texas
Mike has served as a photographer and docent (tour guide) with the Los Angeles Historic Theatre Foundation (LAHTF)

since 2016, and in January 2018 became a Board Director of LAHTF, playing an integral part in preserving and protecting Los Angeles County's historic theatres for future generations. Projects with LAHTF have included the Apple Tower Theatre

and Netflix's Egyptian Theatre

.
Mike is a regular event photographer for, and member of, the Los Angeles Conservancy

, the largest membership-based historic preservation organization in the United States. His photography for the Conservancy has been published at both local and national levels, including feature photos in the playbill for the Shakespeare Center of Los Angeles'

production of "Henry IV" in June/July 2018 starring Tom Hanks

and Hamish Linklater

.
In addition to his background in technical theatre and stage design, Mike is passionate about historic theatres and architectural photography. You can view some of Mike's favorite non-theatrical photography over on Flickr

or at photos.mikehume.com

.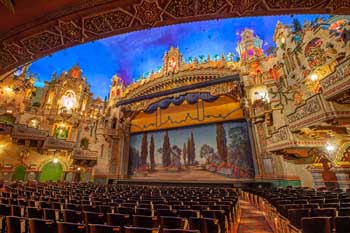 The Majestic Theatre in San Antonio, Texas, considered one of the best examples of an atmospheric theatre
Mike has conducted extensive research into the Atmospheric theatre style

, an interior design style which was popularized in 1920s theatres, particularly in the United States. Simply put, atmospheric theatres were designed to evoke the sense of being transported to a far-off exotic outdoor location. The most popular design styles were Spanish and Italian, however the atmospheric theatre style includes theatres designed to look like Mesoamerican temples, Japanese Tea Gardens, Medieval Castles, and even a Dutch Village complete with rotating windmills!
Mike partnered with the Los Angeles Historic Theatre Foundation

to create an 80-minute video documentary about atmospheric theatres across the United States and the rest of the world. The documentary has been replayed numerous times including for Center Theatre Group

staff in Los Angeles, and as a special co-presentation with the UK-based Cinema Theatre Association

.
You can read more about Mike's research into the atmospheric theatre style on his dedicated Atmospherics micro-site here.
Mike is a keen motorcycle rider and owns two sports bikes; you can read more about that here

.
After being based in the United States for over nine years Mike was awarded with American citizenship in late 2019.
Mike has combined is passions of theatre, photography, history, and preservation into this website: Historic Theatre Photos. Historic Theatre Photos is also on Instagram

, Facebook

, and Twitter

.
You can view a complete archive of all Mike's theatre and event photography work at theatre.mikehume.com

.
Mike's Equipment List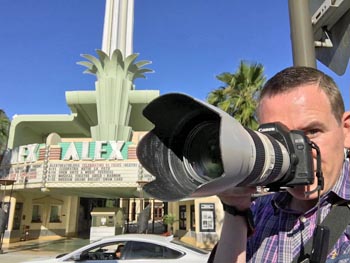 Mike photographing the Alex Theatre in Glendale
Canon EOS 5D Mark II
Canon EOS 5D Mark IV with Canon Log
Canon 600EX-RT Speedlite
Canon EF 16-35mm f/2.8L III USM
Canon EF 24-105mm f/4L IS USM
Canon EF 70-200mm f/2.8L IS USM
Photographs copyright © 2002-2023 Mike Hume / Historic Theatre Photos unless otherwise noted.
Text copyright © 2017-2023 Mike Hume / Historic Theatre Photos.