Events may be affected by Covid-19 protocols!
While Historic Theatre Photos endeavors to ensure event information displayed on our website is kept accurate and updated, however during this volatile time there may be changes to events at theatres which we are not aware of. In particular, proof of vaccination and/or negative Covid-19 test results may be a condition of entry. Some vents may also have been cancelled. You are therefore strongly encouraged to check the status of events directly with the venue and/or event provider. Historic Theatre Photos cannot be held responsible for incorrect event information posted on this website in good faith and later updated elsewhere without our knowledge.
Thank you for your understanding.
<< Go Back up to Historic Theatre Photography main page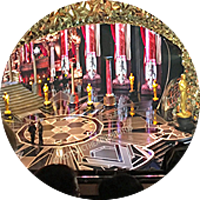 Here you will find details of Awards Shows and Special Events, from The Oscars to the British Royal Variety Performance, which have taken place at theatres featured on our website.
Select an Award Show or Special Event to display more information:

BAFTA Television Awards
The British Academy of Film and Television Arts (BAFTA) Television Awards have been awarded annually since 1955 for the best in television.
The inaugural awards took place in 1955 at the Savoy Hotel in London. Information on subsequent years is patchy, however from 1968 until 1997 the BAFTA Film and Television awards were presented in one joint ceremony known simply as the BAFTA Awards, and in 1977-9 the awards were held at the Wembley Conference Centre (now demolished). For some years in the 1980s (certainly 1985 & 1989) the awards were held at the Grosvenor House Hotel in Mayfair before moving to Scotland for 1990 where they were held at the Scottish Exhibition and Conference Centre in Glasgow. In 1995 the awards came from the London Palladium, and in 1997 the final joint Film & Television Awards took place in the Royal Albert Hall.
The BAFTA Television Awards then moved to the Prince of Wales Theatre for 1998, and then spent three years at the Grosvenor House Hotel in Mayfair. In 2003 the awards moved to the Dorchester Hotel, then back to the Grosvenor House Hotel for 2004 and 2006.
The London Palladium was used in 2007-8 before moving to the Royal Festival Hall for 2009, then back to the Palladium for 2010. In 2011 the awards moved back to Grosvenor House Hotel, then back to the Royal Festival Hall for two years. Since 2016 the awards have been held at the Royal Festival Hall.
Display by: Date | Theatre
Photographs copyright © 2002-2021 Mike Hume/historictheatrephotos.com unless otherwise noted.
Text copyright © 2017-2021 Mike Hume/historictheatrephotos.com.
For photograph licensing and/or re-use contact me here.
| | | | |
| --- | --- | --- | --- |
| Follow Mike Hume's Historic Theatre Photography: | | | |